The evolving Canadian digital marketing space in 2016
An eMarketer report investigates key consumer and marketer trends that will impact the CMO's domain in 2016.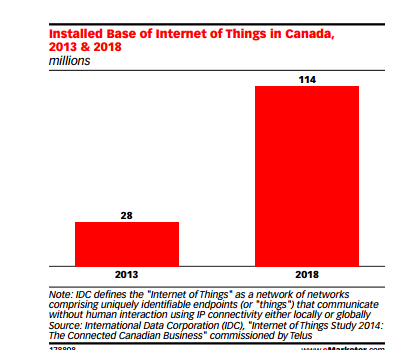 Consumers continue to challenge traditional marketing strategies across Canada with their uptake of new technology. Given this reality, marketers are being forced to find new, more innovative ways to connect with target audiences. Looking at consumption trends, eMarketer's latest Canadian report takes a look at the shifting landscape that necessitates a rethink in marketing strategy for every CMO.
The report, "Canada Trends 2016: Marketer Mastery of Tech and the Consumer Tastes that Make it Necessary," was released late last week at the DX3 conference in Toronto. The report identifies six marketer trends and four consumer trends affecting the pace and manner in which buyers and brands can reach the 21st century citizen. What are the key trends that will impact how brands connect with consumers? eMarketer looks at the how changing consumer trends are giving direction to marketing strategies in 2016.
While the verdict is still out on the impact of implementations around TV's skinny basic packages, eMarketer believes that cord-cutting will grow as cost-conscious millennials opt for cheaper and more lifestyle-suited streaming services like Spotify and Netflix. Canada has an advanced streaming market, with almost a third of connected Canadians aged 16 and above using their streaming services daily, according to a survey by Futuresource Consulting. Moreover 32% of internet users in Canada subscribe to Netflix according to a GlobalWebIndex survey of people aged 16 to 64 in Q2 of 2015.
Other consumer trends that will impact marketer behaviour include continued growth in time spent on mobile devices, expected to exceed 25% in 2016. The past year was also the first time that there were more search queries on mobile than on desktop, most of which were goal-oriented. To move alongside that trend, ad spend on mobile search is supposed to grow from 32.8% of total search spending in 2015 to 67.7% in 2018.
Also, with 1.5 million wearables shipped in Canada in 2015, and with that market growing, wearable technology is expected to be a common business tool in coming years. A Robert Half Technology report showed a majority of marketers not seeing that happening for another five years or more but opportunities are on the rise. Apps designed to support wearables are on the rise and marketers are working on finding non-intrusive ways of connecting with consumers there. One example is the Nymi Band, which was developed out of a joint partnership between the TD Bank Group and Mastercard and allows for contactless payments.
Marketer trends are driven by the need for more contextual engagement with consumers. In 2013 that market of connected things was about 28 million according to the International Data Corporation but it is expected to grow to 114 million IoT connections by 2018, worth about $7.2 billion. With consumer data now essential for every marketer, access to data through the world of IoT will allow advertisers to reach their target consumers more effectively.
With 360 video and virtual reality on the rise, eMarketer expects both to become mainstream in 2016 to provide a more engaging experience for customers, though that is expected to be specific to certain industries and brands.
Out of home is also expected to grow with the rise of digital out-of-home technology. With enhanced LED displays, video and interaction with mobile devices, the indoor and outdoor displays will be used more effectively by advertisers. Digital outdoor is expected to grow from $66 million or 10.9% of total OOH spend for marketers in 2014 to $128 million or 19.2% of total OOH spend in 2019.
Beacon testing has started with a handful of marketers and will continue to grow traction in 2016. Globally 29% of marketers have implemented beacon technology in their stores, with 17% saying they have plans to do so.
Programmatic advertising will continue to grow in 2016. eMarketer expects that 58% of total digital display ad spend will be through these channels, growing to 66% in 2017.
Not all in the marketing space is new. Despite a major setback in email marketing in 2015, eMarketer expects digital direct marketing to regain its space following the slowdown caused by the introduction of anti-spam legislation last year.