Rogers Media lets loose live sports streamer
Sportsnet NOW will be available as a direct-to-consumer sports streaming service.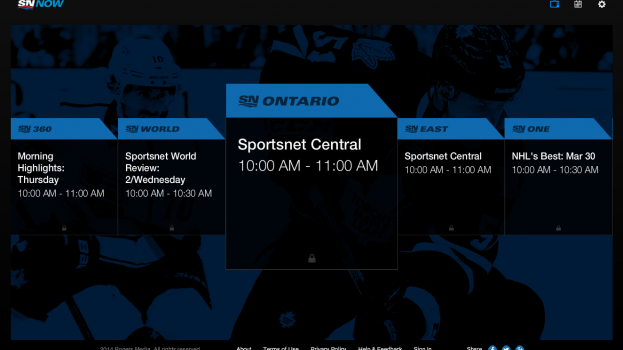 Providing a venue for its traditional TV sports offering in a fast-growing online space, Rogers Media is untethering Sportsnet NOW from its traditional cable service and letting it loose into the land of online streamers. 

The move to offer Sportsnet NOW as a standalone service gives the media company an early-bird advantage, marking it as the first mainstream sports TV channel on the continent to give sports enthusiasts everywhere access to its live content. 

The move demonstrates the channel's attempt to respond to changes in the way Canadians want to consume content. Following the Let's Talk TV process and debuting of the CRTC-mandated $25 skinny basic packages, the media company has responded by giving consumers a new way of accessing its content, without subscribing to a cable package.
Rick Brace, president, Rogers Media stated in a press release that the move is aimed at driving innovation in the business of covering sports and will gives sports audiences access to live content in a new way.
At $24.99 per month, the package's pricing more-or-less mirrors the cost of the skinny basic service and will allow the media company to monetize its sports assets with millennial consumers who fall into the cord-cutter or cord-never categories.
The subscription-based service launches tomorrow morning, offering potential subscribers a seven-day free trial during which they can live stream content across devices from six linear channels, which include Sportsnet Ontario, East, Pacific, West, ONE, and 360.
Sports content to be featured on the streamer include NHL, MLB, NBA junior hockey, soccer, tennis, the Gram Slam of Curling, IndyCar, CIS and Tour de France. The live streamer will also include original programming like Tim & Sid, Gotta See It and Plays of the Month. 
Subscribers to the television service will continue to receive Sportsnet NOW as part of their package.
Rogers Media has been working to establish itself as a front-runner in the race for 4K sports programming. Earlier this year the company became the first one in North America to broadcast an NHL game in 4K, or Ultra HD/UHD as it is also known.