Big Brother Canada rises in season four
The reality show on Global has seen a 7% increase in 2+ ratings over its third season, with the addition of international houseguests and a solid social presence.
Four seasons in, Global's Big Brother Canada continues to see an increase in average audiences.
The reality show has been working its way up the audience-radar ladder since it was introduced in 2013 on then-Shaw Media's Slice channel. The series originally aired only on Slice but premiered on both channels for a combined average audience of 1.4 million, just slightly above its Global-only audience four years later.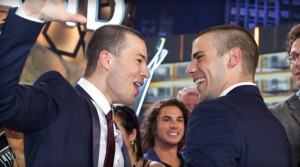 This year to date (Jan. 4 to May 1), the series earned an average audience of 1.2 million viewers per episode, Corus Entertainment has confirmed, posting a 7% increase in 2+ audiences over season three, a 3% increase in the 18-to-49 demo and a 4% increase in the 25-to-54 demo. Big Brother Canada airs three episodes weekly based on different houseguest voting/participation formats.
Big Brother Canada's fourth season concluded May 12 with overnight ratings of just under 1 million viewers, up 8% over its season three overnight finale numbers, according to Numeris data via Corus. The winners were Nick and Phil Paquette from Ottawa, ON (pictured right).
The series also saw success on social media this season. It started trending early with the announcement that the fourth season would include an "international wildcard vote," in which viewers could vote for their favourite two international BB houseguests to join the Canadian house. The #BBCAN4 hashtag trended again the week of the finale, for over 12 hours, the net reports, from its airing at 9 a.m. through til 10 a.m. the next morning, logging 46,600 mentions.