Spotted! Sport Chek taps the power of livestreaming
The retailer took to Facebook Live for an Olympic-themed chase through Toronto's High Park.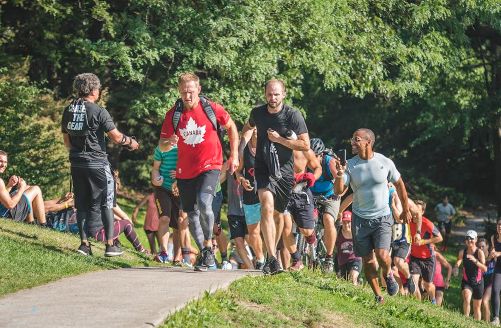 While Canadian athletes were chasing gold medals in Rio, fans back home were chasing… backpacks?
On Aug. 19, retailer Sport Chek showcased Adidas' new High Performance Olympic collection (exclusive to Sport Chek) with an unconventional race around Toronto's High Park. Former Calgary Flames and Toronto Maple Leafs left winger Gary Roberts and former Olympians Meaghan Mikkelson and Natalie Spooner were tasked with running throughout the 161-hectare park carrying backpacks full of the Adidas gear, while Canadians tried to find them through check-ins on Facebook Live. Those who located any of the three athletes walked home with prize packages from the backpacks.
The hybrid OOH and mobile campaign, a joint effort by Sport Chek parent co FGL Sports and Touché (media), TBWA\CHIAT\DAY NY (creative), Touchpoint Films (production), Pixelpusher (tech) and North Strategic (PR/social) was primarily promoted across social platforms, which has fit with Sport Chek's overall mobile-centric Olympic strategy.
While Sport Chek has done a few posts on Facebook Live in the past, Frederick Lecoq, SVP of marketing at FGL Sports, told MiC it was the first time creating a campaign at such a large scale on the platform's new live feature.
"The entire world of marketing is shifting from being three or four campaigns a year to being always on," said Lecoq. "What's great now with Facebook Live is it gives the brand the opportunity to react in the moment."
In the end, the livestream saw 7,500 unique viewers and had more than 5,000 reactions, according to Lecoq, with the most engagement coming from Ontario.
The success of the campaign was relatively modest, Lecoq admitted, adding that it did not translate to a significant drive in sales for the Adidas line, but it has pushed the company to undertake more Facebook Live initiatives. Lecoq said the company will likely do another Facebook Live project around the upcoming World Cup of Hockey tournament in September.
In the future, Lecoq said, the company will look more at promoting the event before it happens, rather than rely on viewers stumbling upon the broadcast in their feed. "We definitely need to work on setting up that kind of trigger to say 'Hey, remember to dial in or tune in around this time.'"