Spotted! Cineplex gets creative with popcorn
The entertainment co has placed a giant bag of popcorn with a lightning rod in a Windsor, ON field as part of its weather-focused campaign.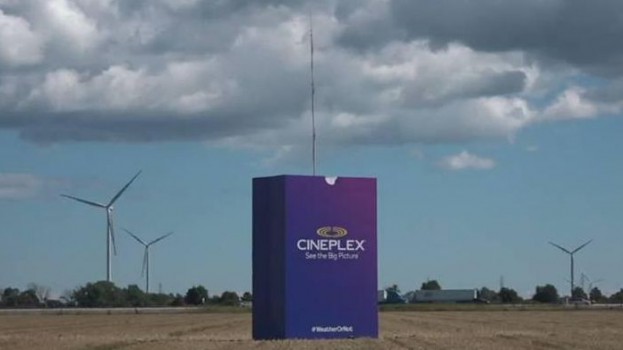 If lightning makes a giant bag of popcorn plonked in centre of an open field pop, does it also draw an audience?
Cineplex is hoping that the answer to that question is yes. The entertainment co is getting experimental for the finale of its #WeatherOrNot summer campaign, placing a 20-foot high bag of popcorn with a lightning rod inside it in a field outside of Windsor, ON (the most lightning prone city in Canada).
But since the company knows throngs won't be making a dash out to the field, the status of the kernels will be livestreamed at Cineplex.com/Popcorn. Visitors can make the experiment interesting by betting on whether or not the kernels will pop in order to win their own free Cineplex popcorn until Sept. 2.
Media work for Cinplex is handled by Isobar, creative from Zulu Alpha Kilo, Hill + Knowlton on PR and Performance Solutions on the design and fabrication for the activation.
Ads promoting the livestreamed giant popcorn execution have been placed on Facebook and YouTube, with additional spots on Cineplex.com, direct emails to SCENE members and a behind-the-scenes spot running during the Cineplex Pre-Show.
"We're reminding the 42% of Canadians who told us that they cancel plans if a summer activity is impacted by weather that making time for what you love is possible, even when lightning strikes," said Sarah Van Lange, director of communications, Cineplex. That message supports Cineplex's branding for its #WeatherOrNot campaign and also reiterates the larger idea behind its See the Big Picture platform, which launched late last year with an award-winning spot.
The #WeatherOrNot campaign launched last month with bar-coded beach towels placed on Canadian beaches on too-sunny days that could be exchanged for movie tickets and popcorn. It has also included a branded Yo-Yo's truck (a product Cineplex owns) that toured Ontario and treated passers-by to movie-themed frozen yogurt combinations.