Rogers buys the top: Media Monitors
The telco purchased the most radio advertising for the week of Aug. 29 to Sept. 4.
Rogers moved up one spot to land at #1 on the Media Monitors report for Aug. 29 to Sept. 4.
The telco was followed by Bell Canada, which moved up from #12 to #2 for the week. The Canadian National Exhibition moved up from #6 to #3 ahead of its final weekend live in Toronto.
Virgin Mobile jumped from #16 to #4, while Bell Mobility entered the list at #5, rounding out the top of the chart in the city.
In Montreal it was Rogers' Fido Solutions moving from #4 to take the top spot.
The mobile company was followed by rival Bell Mobility, which entered the list at #2.
Dormez-vous moved up from #47 to #3, Accent Insurance jumped from #7 to #4 and Virgin Mobile moved up from #8 to #5.
Toronto:
By brand
By brand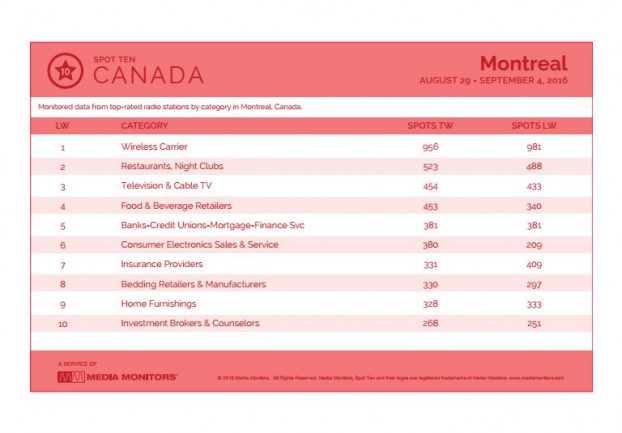 Image: Shutterstock