Blog: Lessons from Content Marketing World 2016
Blue Ant Media's director of branded content solutions Andrew Lane on why it's time to stop flirting and get serious about content marketing.
By: Andrew Lane
As marketers we're always flirting with the next new thing. But while we're passing notes in class to Snapchat and thinking about taking virtual reality out for lunch, content marketing sits in the back of the room, rolling its eyes. Content marketing doesn't want us to treat it like the next new thing. While it might look young and shiny, it's actually a craft more than 100 years old. Content marketing is a mature and increasingly critical component of the marketing mix that isn't going anywhere, and if you want to succeed in your relationship with it, it needs to be treated that way.
Minus the metaphor, this was the key message that the Content Marketing Institute's esteemed founder, Joe Pulizzi,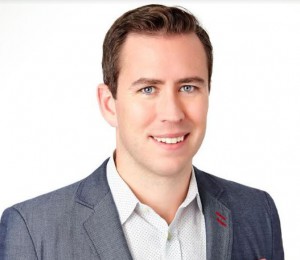 used to kick off Content Marketing World. In a world where only 20% of marketers say they're committed to their content marketing strategy, according to the Content Marketing Institute's own study, we need to go all-in if we want to succeed. As 3500+ marketers from around the world descended on Cleveland, Ohio, it was clear that the marketing universe is, well, flirting with that commitment.
After spending two days with hoards of other marketers already smitten with content marketing and looking to learn how to connect more meaningfully to our audiences, I found these three key themes emerged from the event:
1. Content driven by data, insight and context will win.
 To deconstruct the creative process for great content, TrackMaven's CEO Allen Gannett explained that even Taylor Swift's hit making process boils down to data, machines and human intuition coexisting to deliver a truly compelling story. It underlined the point that, "The things we perceive as brilliance are often actually the product of a system."
Taking another spin on this, analyst Rebecca Lieb shared original research on the power of contextual data delivered by wearables and connected devices and she shared a quote from Gunjan Bhow, SVP of Digital at Disney and former head of product at Amazon: "The more context there is, the higher the ROI." Marketing's future will be based on pillars of consumer experience, service and utility, all of which must deliver on an insight and provide contextually relevant value. It's these systems and that context that result in experiences and stories that build authentic trust and loyalty.
2. It takes guts to be great. Even with all the data in the world, the story itself still needs to powerfully deliver on an insight to cut through the clutter. Velocity Partners ECD Doug Kessler held up two classic campaigns, "Dumb Ways to Die" and the Dove "Campaign for Real Beauty," as quintessential examples of taking an insight and flipping it on its head to find an opportunity to truly connect with an audience in a bold new way. Orbit Media founder and author Andy Crestodina challenged us to do the hard stuff to break through – to share the strong opinions that no one else will and to dive in and deliver the research that nobody else can, to create true depth to our storytelling. Pulizzi himself was far more pointed in his opening remarks, delivering the rallying cry, "I would rather you do nothing at all, than create mediocre content." For all the resources and dollars required to deliver compelling content, it's in no one's best interest to create simply for the sake of creating.
3. Content Marketing is not the same thing as content production.
 If you build great content, they won't necessarily come. The reality is, content production is only one small (though critical) part of an ecosystem. This foundational idea was echoed in separate sessions by powerhouse marketers including Rand Fishkin, founder of marketing analytics firm, Moz, who described it as a great "content flywheel" blending earned and paid media to supercharge distribution.
Mirum's president Mitch Joel challenged the crowd to move away from a homepage-centric strategy and look to create a multi-hubbed network presence. Facebook, Google and Netflix are building them and we, as marketers, should too. As John van Branchel, SVP, content marketing at Bank of America put it, "You have to be using both the left and right side of your brain to be doing content marketing [today]." 
The elusiveness of the modern media consumer demands we master the ecosystem at each creative and technical touchpoint or our messages will never be seen as the signal, and only contribute to the noise.
While I've had more than just a crush on content throughout my career, two days in Cleveland have once again taken my feelings to a new level and hope that more marketers are starting to feel the same way.
It's time to get past just swiping right on content's dating profile. It's time to just buy the ring and commit.
Andrew Lane is not a professional relationship expert or couples counsellor, but he is the director of branded content solutions at Blue Ant Media.