Inside Taco Bell's branded sleepover
The fast food joint has teamed with short-term rental service Airbnb for the first time to give consumers a quesadilla-themed stay.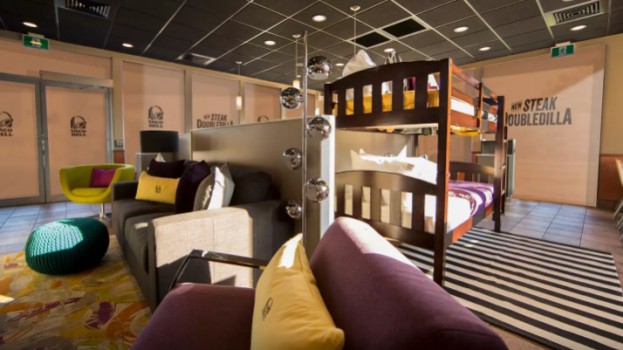 Some companies give away glamorous vacations to five-star resorts. Taco Bell is offering up a stay in one of its restaurants.
On Oct. 17, a Chatham, ON-based Taco Bell will be outfitted with bunk beds, chairs and a big screen TV for four friends to stay the night in the fast food restaurant with a "Taco Bell Butler" to serve them fast food throughout their stay. The campaign is part of Taco Bell's effort to promote its new Steak Doubledilla menu item, which launched yesterday.
This is Taco Bell's first time hosting this kind of event, and its first partnership with Airbnb. The media buy was executed by MediaCom Canada with creative by Grip. Veronica Castillo, head of marketing and R&D for Taco Bell Canada, said MediaCom suggested a partnership with short-term rental service Airbnb since its largely millennial user-base fit with Taco Bell's target demographic.
"We've always tracked very strongly with millennials, especially age 18 to 24," Castillo told MiC, adding that Taco Bell has been trending upwards in that age range year-over-year. "Everything we do right now is geared toward that demographic."
The campaign is harnessing the popular term "staycation" (or "steak-cation") through the Airbnb partnership.
"The theme of staycations is about making something classic exciting," she said. "That complements our new quesadilla product, which is adding a new twist on a classic."
The contest officially opened Oct. 3 and closes Oct. 11., with the winner being announced Oct. 13. Participants can enter online on Airbnb. The contest is being promoted on both Airbnb and Taco Bell Canada's social (Facebook and Twitter) channels.
Some social media content will be produced following the Oct. 17 stay in the restaurant, however Castillo said no specific platform had been decided upon yet. The contest rules state that the contestants may participate in a live-stream or post-event video to promote both Taco Bell and Airbnb.