Steady as she goes: Toronto Life turns 50
As the magazine's golden anniversary approaches, its publisher reflects on how it's adjusted to the trials of print advertising.
Local news and lifestyle magazine Toronto Life is about to ring in the big 5-0. Its golden anniversary issue is set to hit shelves on Oct. 20, with a private, sponsored party being held at Casa Loma later this month to mark the occasion.
Hitting such a milestone may be seen as a big deal in an age where print titles are reducing publication schedules and heading exclusively to digital — see Rogers Media's shuttering of print editions such as Flare, Canadian Business and others in favour of online-exclusive content and reduction of print issues for Maclean's, Today's Parent and Chatelaine.
But Toronto Life publisher Ken Hunt said he doesn't think it's fair to compare the magazine, which was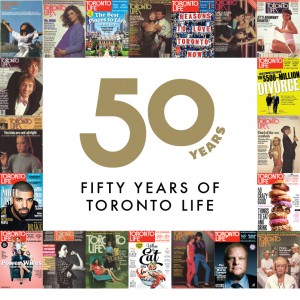 acquired by privately owned St. Joseph Communications in 2002, to the likes of national magazines that have felt the sting of shrinking ad dollars.
"In terms of ad revenue, we haven't been immune to the same challenges that everyone else faces," Hunt told MiC. "National advertisers have gone down, and while we have a big enough audience to go after those national advertisers, we're targeted enough to go after the likes of local real estate developers, local retailers and the like. The local advertising edge is where we make up the difference."
Still, shrinking national ad campaigns have impacted Toronto Life. Advertising revenue was down year-over-year in Q1 and Q2 this year, said Hunt, while a reorganizing of sales in Q3 allowed for a turnaround with revenue increasing year-over-year. Hunt would not disclose exact ad revenue numbers.
"One of my big projects in the last year was to do a deep dive into our data around sales [and find out] where exactly our sales were coming from, which categories we were doing well in and where we were falling behind," said Hunt. This led to a new structure on the sales team in which each rep became responsible for a single vertical. "Now we have a single person in charge of home decor, a single person in charge of fashion, a single person in charge of automotive, and so on." The reorganization did not involve personnel changes.
He also said revenue will be up for Q4 and overall year-over-year revenue and profits for the magazine will be "steady" for 2016.
Still, relying on print and digital advertising alone hasn't kept Toronto Life afloat. Diversifying revenue streams has been essential for the magazine, said Hunt. In early 2014, parent company St. Joseph Communications launched Strategic Content Labs (SCL), a custom content marketing agency to create native content for advertisers.

Hunt said the agency has been a "tremendous" help and has allowed the magazine to stabilize business by more-than offsetting the falling revenue of legacy advertisers.
While the agency has mainly focused on creating new titles for advertisers, such as a bi-annual print lifestyle magazine for retailer Birks (1879 by Birks), Toronto Life has become a destination for some of that native content, such as the recent "#SummerSoiree" digital campaign from Grey Goose Vodka. The article and video series focused on planning the perfect summer soiree, profiling a local restaurateur, event planner and bartender as they provided tips on planning a summer party — all sponsored by the vodka brand. Other high-profile SCL clients that have created content for Toronto Life include Cadillac Fairview and the Eaton Centre.
But the real superstar, said Hunt, is the company's events portfolio. Revenue from events has tripled in the past year, he said, with tentpole events (both sponsored and ticketed) around Toronto Life's major special issues: the annual Best Dressed party that aligns with TIFF, the yearly Best Restaurant event, its Investing in Real Estate event and its yearly garden party at the Toronto Botanical Gardens.
"We do have a hard-nosed local approach to our business," said Hunt. "But we recognize that there are many, many more revenue streams out there."
Toronto Life has an average monthly circulation of 87,929 (newsstand and subscription) and an estimated 890,000 readers, with 998,650 unique monthly visitors per month to its web page. Average household income of the magazine's readers is just slightly under $100,000.