Maple Leafs and PetSmart put pets into the game
The retailer will serve as the team's first exclusive pet partner, in a bid to reach pet-owning hockey superfans in Toronto.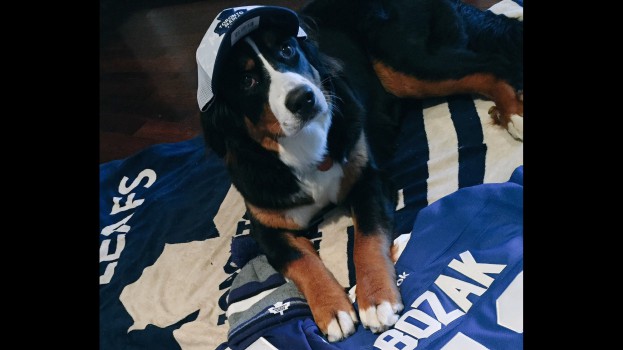 The Toronto Maple Leafs have selected their first exclusive pet retailer. PetSmart has signed on to a three-year deal, and is promoting the partnership through in-store appearances, a social media contest and a special in-game video.
As part of the partnership, Leaf players will appear at several of PetSmart's in-store events, while a new line of Leafs-themed pet clothing by PetSmart will be sold in the ACC's Real Sports Apparel store.
On top of this being the Leafs' first partnership with a pet retailer, it's also PetSmart's first partnership with a sports franchise. The deal is part of PetSmart's efforts to reach out to Toronto sports fans who also happen to be pet owners, as well as promoting pet adoption to the Leafs' sizeable audience.
An in-game video will also be shown at the Leafs' Nov. 11 and Feb. 18 home games to promote pet adoption. As well, a contest to find the #PetSmartSuperFan asks pet owners to upload a photo of their pet explaining why they are the ultimate Leafs super fan to win a pair of tickets to a game. The winning pets will also be displayed on a branded board at centre ice.
The contest will be promoted through in-game digital assets and on MLSE's outdoor digital signage that overlooks the Gardiner Expressway. That buy was conducted internally through MLSE.
PetSmart senior marketing leader Andrew Kretz said the partnership will mainly be marketed toward Torontonians, where he said Leafs fandom and pet ownership are sure to overlap the most.
"This is an area where obviously Leafs fandom and pet ownership intersect greatly," Kretz told MiC. (According to Toronto Animal Services, there are approximately 230,000 pet dogs and 303,000 pet cats in the city of Toronto.) "People are very enthusiastic about the Leafs, and our brand is all about being enthusiastic about your pets. There are a lot of opportunities for intersection here, especially on social media."
Kretz also said the partnership was ideal to begin in the 2016-17 season, as it's the year the NHL is celebrating the Leafs' Centennial.
The deal was arranged internally through PetSmart and Maple Leaf Sports and Entertainment, however Kretz said its agency OMD offered input during the valuation process, but did not officially broker the deal.
Leafs alumni Rick Vaive and Shayne Corson will appear at the grand opening of a new PetSmart store in Toronto's Beaches neighbourhood on Oct. 27.
The in-game video will feature a line-up of post-adopted pets from PetSmart decked out in Leafs apparel, walking through the hallway as if part of the starting line-up. The video, which was produced by MLSE and has not yet been released, is being used to promote PetSmart's National Pet Adoption weekend events, which will occur Nov. 12 and 13 and at a date to be determined in February. Additional Leafs alumni will appear at various Toronto PetSmart stores during those weekends, but specific stores and Leafs will be announced at a later date.