Abby Worthington on how out of home can prove its worth
With data-heavy mediums like digital and social on the rise, the media agency director speaks to MiC on the connection between mobile and outdoor advertising.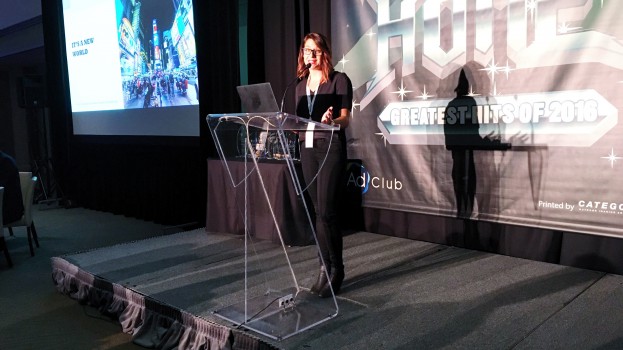 "We can't click through it. We can't fast-forward. We can't close our eyes as we walk past it down the street."
That's how Abby Worthington, senior director, head of print and OOH investment with the Dentsu Aegis Network, described OOH media in her keynote address at the 2016 Advertising Club of Toronto's OOH Showdown event on Oct. 20.
But despite her enthusiasm for the medium, she urged the industry to be wary when navigating the massive waves of change in the media landscape. "We need to start where we are now," she told the crowd. "We need to not get too far ahead of ourselves."
Worthington said the potential of OOH lies in the inventory available to the industry across the country's streets, highways, transit vehicles and benches.
"We know out of home is working, we just can't prove it yet," Worthington told MiC following her keynote address.
While the media industry has become obsessed with data measurements and programmatic ad-buying, that doesn't always jive with OOH.
Right now, said Worthington, much of the data surrounding OOH relies on foot and car traffic data measured through tickers.
Not having as accurate a measurement system creates misconceptions around the medium, she told MiC.
"In order for us to elevate out of home, we need to make it more measurable," she said, adding that it's not uncommon for clients to favour television and digital or social advertising over OOH for that very reason. "There's nothing to prove that it's doing anything for the bottom line.
"When you have a metric to measure against television, and you have a metric to measure against social, it's easiest to cut out of home out of the equation. We know out of home is working, but we just can't prove it yet."
Where that proof comes in, said Worthington, is in the increasingly intertwined relationship between OOH and mobile.
Worthington said the industry is increasingly shifting toward digital-powered boards that can connect to mobile. In her keynote address, Worthington said OOH and mobile are "clearly" connected to one another.
"Mobile can help us truly understand how many people are around a certain board and how they're interacting and going on with their day," she told MiC.
According to the Canadian Out-of-Home Measurement Bureau (COMB), just over 700 of the country's outdoor faces are digital, which represents 2% of the country's total outdoor inventory (COMB does not include data from vendors Cieslok, IMA, Dynamic, Canadian Digital Network, which do have digital faces in their inventory. Pattison OneStop and Lamar Transit screens are also not included in COMB's data).
"As we all talk about programmatic and digital, only [a small amount] of our industry is digital."
And although Worthington said that is sure to change, she also said there's no big need to reinvent the wheel when it comes to OOH.
While the Showdown event highlighted activations from around the world that stepped outside the box —such as an activation for Germany's Astra beer, which utilized facial recognition cameras to target its ad only to women, or a campaign to promote the video game Rise of the Tomb Raider which saw eight people stand for nearly 24 hours on a billboard faced with heavy snow and rain — Worthington said OOH can be just as effective without large stunts.
While those executions are great to create PR buzz and create conversations, Worthington told MiC campaigns don't always have to be experiential activations.
"Out of home doesn't have to be a bit one-time experience where you come in, you make an impact and at the end you make a video of it," said Worthington.
"With the right placement and the right creative, out of home can kill it," she said.