Spotted! CREA offers tea and sympathy
The experiential activation is part of a greater campaign by the association to emphasize stress relief in the home buying process.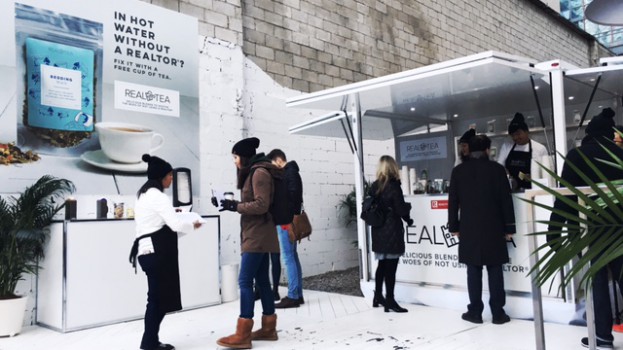 As the weather cools (and the Toronto real estate market stays hot), the Canadian Real Estate Association (CREA) is offering some free hot tea to Torontonians in a campaign directed at first-time home-buyers and sellers.
Today (Oct. 26), the CREA has set up an outdoor "Real-Tea" pop-up stand in Toronto at King and Peter where it is giving out free tea to passers-by. The goal is to strike up a conversation about buying and selling homes, how to alleviate stress during the experience and why realtors are important.
The campaign was created and executed by Union, which also handled media buying and planning in-house. Union has been working with the CREA for more than 10 years, but Lance Martin, executive creative director with the agency, said this was the first time it's tried to do something more experiential.
"[Buying a home] is very stressful, probably the biggest investment you'll make," Martin told MiC. "The idea for this campaign was really to just strike up a conversation over tea with people who are thinking of going at it without a realtor, or maybe have already chosen not to use a realtor and are feeling a bit of a stress from that."
Incorporating tea, said Union group account director Kimberlee Welch, was to serve as a contrast between short-term relief and long-term relief.
"We're telling people that while the tea gives you that instant, soothing relief, it's nothing compared to long-term reassurance, and that's where the conversation with realtors comes in," she told.
The six custom tea blends were developed with Toronto-based Pluck Tea and are given real estate-themed names, such as "Steeped Price" and a nighttime blend called "Bedding War."
While the tea pop-up is only around for one day, the CREA has launched a website to move the tea blends, which are free, plus shipping. The tea will be available until the end of the year or until supplies run out.
The tea is not the only aspect of the campaign that is ongoing. A digital campaign featuring boosted 10-second videos on Facebook and Instagram will launch the week following the activation. Three different videos will air on both platforms, boosted once per week until the end of November. Martin described the videos as "short, colourful and whismical" to complement the "stress-relief" theme of the campaign.
Welch said that while the demographic of home-buyers and sellers can run a little broad, most of the first-time home-buyers in Toronto are in the older millennial age-range, so the CREA aimed to reflect that with the campaign.