Spotted! Royal Roads University's new lending library
The university has abandoned print media and instead opted for experiential and digital for its latest recruitment campaign.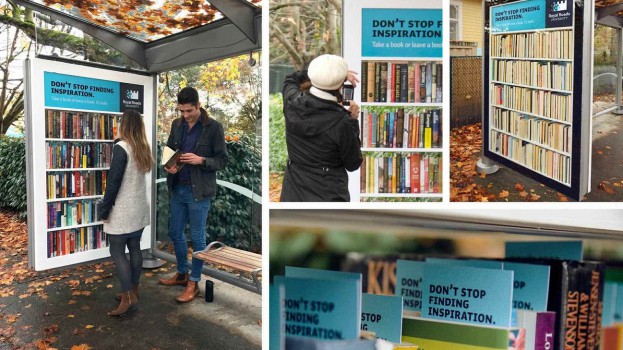 For its latest recruitment campaign, Victoria, B.C.'s Royal Roads University (RRU) has left print advertising behind in favour of OOH, including a public post-it wall and a mini-library at a bus stop.
OOH activations in the university's new "Don't Stop" recruitment campaign include transforming a downtown Vancouver transit shelter (Cornwall and Maple streets) into a community book share featuring real books and encouraging transit-goers to take some and leave their own. The signage reads: "Don't stop finding inspiration."
The campaign launched with a one-day event on Nov. 4 with a mural at the Vancouver International Airport that was created by over 1,400 sticky notes spelling out "Don't Stop." The mural encouraged people to write their plans to continue learning and pushing themselves throughout the future.
The stories of eight accomplished alumni from RRU are also integrated into the digital and out-of-home campaign, with messages on how the past students have embraced life-long learning after graduating from RRU.
Catherine Riggins, associate VP of marketing and alumni relations for the university, said using alumni was a more genuine approach for prospective students.
"When it comes to reaching prospects, our alumni are more credible than the marketing team," Riggins told MiC.
Cossette Media acted as the media buyer for the campaign while Vancouver-based Will executed creative.
The shift from print to OOH and digital allows RRU to tap into the cost-effectiveness of the former, said Riggins.
"It's easier to measure, you can change it on the fly, and you can make the budget work the hardest."
Social video of the stunts went live Nov. 24, and although Riggins said there have not yet been any paid boosts around the posts, the university may engage in promoted Tweets over the coming week.
The transit shelter campaign, including the lending library will continue until the end of December. While Riggins could not provide exact numbers on how many individuals interacted with the activations, she said the university's Twitter account has made 102,000 impressions over the past 28 days, with a major spike in daily impressions on Nov. 4, the start of the campaign.
While the month averaged 3,600 impressions per day, the first day of the campaign, which featured Tweets with prompts such as "Finish this sentence: 'In my life, I hope I don't stop…'" saw more than 10,000 impressions.