Astral expands underground network in Montreal
The out-of-home company has brought HD, backlit digital screens to Montreal's Metro for the first time following its acquisition of Metro Media.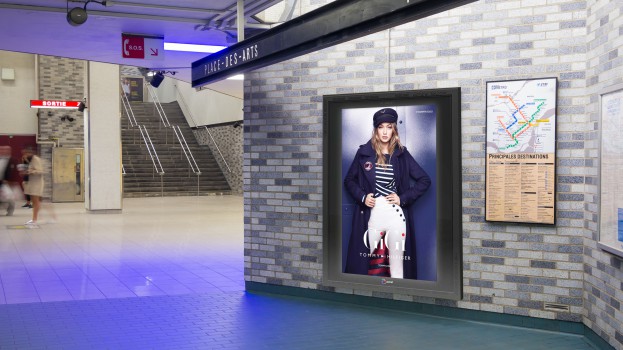 Astral Out of Home has added 50 new faces to its Montreal underground network. The new faces are the first HD, backlit digital screens to come to the Montreal Metro and bring the total number of faces in Astral's underground network to 99.
Jordana Fatsis, VP of sales, said the new faces are also a key part in its overall Montreal digital network, which includes 40 digital columns at street level.
"We now have 139 faces covering at street level, the subway portion and the commuter portion," Fatsis told MiC. "That allows us to create campaigns that are more cohesive, that really meet people at various stages of the day."
The new faces will be featured at the McGill, Pace-des-Arts, Peel, Bonaventure, Atwater, Guy-Concordia, Lionel-Groulx, Jean-Talon, Snowdon, Square-Victoria-OACI and Berri-UQAM stations. Fatsis said Astral had already been established in stations for Montreal's AMT commuter trains, and it's now focusing on the Metro network to increase its reach.
"When we acquired Métromédia [from Cogeco] in January, there was huge anticipation from our clients to bring digital into this network," she said.
The deal to acquire the network, which took place over the course of one month, was part of a strategic move  by Bell Media to strengthen its OOH asset base and cover more ground in Montreal.
The roll-out of the faces will begin Dec. 15 and are expected to be fully operational by Jan. 23.
Fatsis said the addition of new digital faces will help support Astral's goal of becoming a more digital and data-driven company in the new year.
"What we're able to do now for advertisers is add touch-points for better targeted campaigns," she said, "Our capabilities for better data-driven targeting will definitely be expanding in the new year."