Golf Town taps next generation of golfers with first athlete sponsorship
The ailing sports retailer is expanding its media strategy to integrate more social video content in the hopes of reviving the spirit of the game with millennials.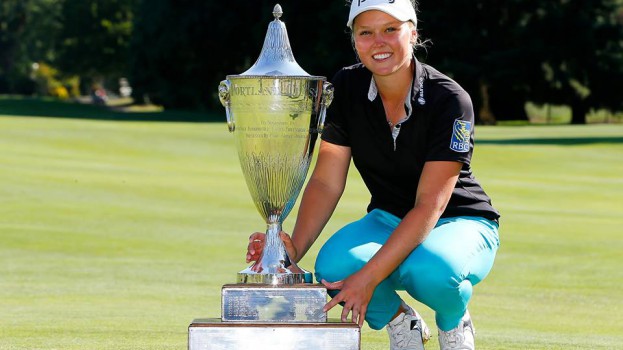 Last summer, before Frederick Lecoq moved from FGL Sports to his position as VP of marketing an e-commerce at Golf Town, he had an experience of his own with golf.
"We were looking for a camp for my daughter to try something new," he told MiC. "We ended up deciding on golf camp."
While Lecoq's daughter is normally more interested in the arts and was not initially a natural golfer, the last day of camp brought a surprise: an appearance from professional golfer Brooke Henderson. The 19-year-old from Smith's Falls, Ont. was named the Canadian Press's athlete of the year in 2015 and was the winner of the KPMG Women's PGA Championship in 2016. Henderson spoke to the campers for several hours, giving them golf tips and sharing stories from her skyrocketing career. The appearance had a major effect on Lecoq's daugther.
"My daughter came hold that night and said, 'Dad, I really want to play golf,'" said Lecoq. "She's been playing golf ever since."
Connecting the younger generation with the game has been a pillar of Golf Town's marketing strategy since Lecoq took the reigns of the retailer's media efforts in December 2016 — which is why it has chosen Henderson as its first Golf Town-sponsored athlete.
"From having never sponsored an athlete before to sponsoring a 19-year-old woman, it's definitely a fresh take on things," said Lecoq. "Golf has often been marketed the same way, toward male boomers. And we've been hearing all across the industry that golf is dying, especially with the millennials."
Indeed, golf has been identified as one of the many industries that millennials are allegedly "killing," with the 18 to 34 age group not picking up the sport with the same enthusiasm as its boomer counterparts.
"We've had to ask ourselves if there's even room for a golf industry in Canada or even in North America," said Lecoq.
Feeling the squeeze of golf's lack of popularity, Golf Town's U.S. parent company Golfsmith International filed for Chapter 11 protection in September 2016, with Fairfax Financial and CI Investments purchasing the company's Canadian operations shortly thereafter. Since then, Golf Town has brought on not only Lecoq, but another former FGL exec. Chat McKinnon, former COO at FGL, joined Golf Town as president in October and Bill Gregson, who led turnaround efforts as CEO at The Brick prior to its sale to Leon's, was hired as chairman that same month.
Tapping a millennial athlete was one of the clearest ways to grow interest in the game, said Lecoq. But connecting with a more diverse audience also meant rethinking its media strategy.
While Golf Town will work on creating sponsored meet-and-greet events for Henderson, Lecoq said the main focus will be on social and digital content. The company has not yet chosen a platform or particular schedule for Henderson's content, but it will focus on creating videos that fall into three different categories: transactional, which showcases the products and offers advice on how to choose equipment; functional, which delivers tips and tricks for casual golfers looking to learn more; and emotional which offers fans an inside look at Henderson's life as an athlete.
"If we want to follow our mission to be known as a golf vertical expert, we have to expand beyond the transactional," said Lecoq.
"We're not looking to forget the boomers and avid golfers all together, but we've acknowledged that there's room to grow with casual players and the younger generation."
Lecoq said that the chain started to see a turnaround in sales from the week before Christmas into mid-January. While he wouldn't offer detailed figures, he said sales have been "really encouraging," although he added that "the war is not over" when it comes to recovering from bankruptcy.
The sponsorship deal was conducted directly between Henderson's management and Golf Town with no outside agency.