Mark Ritson says its time to rethink TV, digital and millennials
The veteran marketing consultant and professor told FFWD Ad Week attendees to stop planning for television's funeral, and to get over "the whole millennial thing."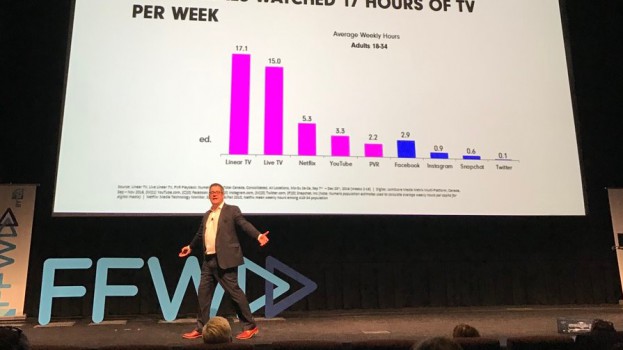 "Why do marketers still buy digital advertising if it doesn't work?" Mark Ritson asked rhetorically, addressing a crowd during his one-hour talk at FFWD Advertising and Marketing Week 2017, presented by the ICA. Ritson, a longtime marketing consultant and professor, had just spent nearly 60 minutes covering the perceived usefulness of digital and social marketing and the so-called "death" of traditional television.
"Because my dog kills wallabies even though I train her not to," he said. "It's just in their nature."
Ritson, an adjunct professor at Melbourne Business School who works as a marketing consultant for major brands, said marketers are putting too much stock in digital, particularly in the thought that it's pulling people away from TV.
Citing Numeris PPM data, he said Canadians watch an average of 27.5 hours per week, which he admitted was a slight decline over the years — but noted that a decline didn't mean imminent death.
He added that it's a misconception to believe that just because millennials watch less TV than previous generations now, that they will continue that behaviour through their lifetimes.
"When you're young you also have sex with a lot of people and you drink a lot," he said. "Then something happens that demographers call 'getting older.'"
For what it's worth, he said, millennials still watch TV, even if it's a below-average amount. While the average Canadian watches 27.5 hours of linear TV per month (including live and PVR playback), the country's millennial demographic watches 17.1 hours of video per week.
Ritson also took aim at digital companies such as Facebook, Google and other so-called "walled gardens" for the way they reported views, particularly for video, and pointed to how the views for digital videos usually aren't judged by the same standards as linear television.
"When we compare TV shows to other TV shows, it's like comparing apples to apples," he said. "When we compare TV to digital, it's completely different. It's like apples to a giant refrigerator."
To demonstrate, he played a two-second clip of the 2002 film Atanarjuat (The Fast Runner) to demonstrate his point — with the sound off and the frame shifted to only show half of the picture. "We've just watched Atanarjuat," he told the audience, referring to the standards by which some digital media companies measure views.
When MiC sat down with Ritson following his talk he clarified that he did think digital played an important role for many brands when the execution is done well.
"There are certain [instances] where the combination of positioning, messaging and target segmenting can really lead you down the path of strong digital executions," he said, pointing to Benefit Cosmetics and Sephora, two brands he has advised on marketing, as companies that are almost entirely digital in their communications. "It has its place in the mix, my view is just that the place is overstated most of the time."
He also said platforms like Facebook are highly valuable for their segmenting tools that extend beyond traditional age demographics.
However, he said, standardization in the way digital and social media metrics are reported needs to come sooner than later. He also pointed to a string of recent admissions by Facebook that it had incorrectly reported some of its metrics including video views as proof of how digital and television are held at different standards.
"If a TV network reported that they had one day of inaccurate views it would be a huge scandal," he hypothesized. "When Facebook admitted all these errors, the reaction was, 'thanks so much for being honest.'"
Overall, he said, brands need to stop thinking that reaching millennials is as simple as allocating all ad dollars to digital.
"The whole millennial thing is nonsense anyway," he told MiC. "We talk about the millennial segment, and a segment is supposed to be a bunch of people who behave the same and think the same. The idea that anyone born within the same 15 years are all the same in terms of their needs as consumers is ridiculous."
Ritson said within the next several years, he sees the proverbial pendulum swinging back to the centre, with some brands rethinking how they use digital (and in many cases, he said, no longer considering digital separate from traditional marketing).
"Don't get me wrong, digital marketers, you're the future," he said. "But you have to stop with the digital BS — it's going to turn into the world wide web. Trust me, I've seen it before."