Facebook opens branded content to more pages
Unverified pages, such as pages for independent blogs and up-and-coming influencers, can now access branded content tools, and content will be more clearly labelled for users.
For users on Facebook, it will now be a little more clear when pages are posting sponsored content such as photos, videos and Facebook-native articles.
Verified pages which post content that was created in partnership with a paid sponsor will now include a tag on the post that states "paid." While the post format previously included the option to tag the partner that it was created with, there was no clear indication of paid content.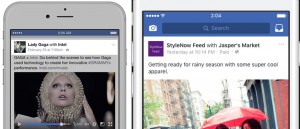 "Our goal with this change is to make it clear to people that branded content posts represent an exchange of value between the publisher and a third party," a Facebook blog post detailing the launch stated.
Facebook is also opening up the possibility for more pages to share branded content native to Facebook. Previously, only pages that have been Facebook-verified have been able to publish sponsored content on the platform and receive access to Facebook's branded content tools, which include insights into analytics. Now, all pages will be able to apply for branded content tools, and some unverified Facebook pages will be granted the tools without having to apply if Facebook predicts that the page is likely to use it.
The move was done to attract more small-scale pages and publishers such as independent blogs and up-and-coming influencers.
"We know that some creators and publishers with branded content deals are not verified, so we want to make this capability more widely available," the blog post stated.
Facebook has also updated its branded content policies. Content that is found to be in violation of policies will no longer be removed right away, rather the page operators will be given a notification and an opportunity to fix it. The platform will also now allow logos, watermarks and graphic overlays to persist throughout the entirety of a video (previously not able to play during the first three seconds).