The Big Bang Theory holds the top, but Hockey Night creeps up: Numeris
The comedy on CTV brought in the most viewers of all single-night shows for the week of April 3 to 9, but the Leafs' playoff-cinching match drew big audiences across all markets.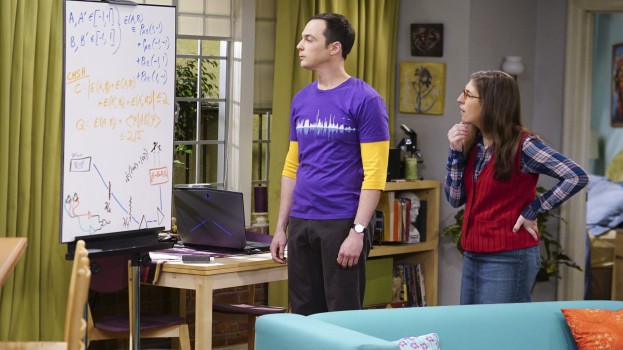 It should come as no surprise to anyone who regularly reads the Numeris reports that The Big Bang Theory once again pulled in the highest average minute audience (2+) of all daily programs in Canada. The most recent Numeris report, which covered the week of April 3 to 9, showed that the multi-camera comedy on CTV pulled in 3.37 million viewers for the night, a slight gain over last week.
In fact, most of the shows in the nation's top-five — Global's Survivor and NCIS, as well as CTV's Designated Survivor — are no stranger to the top spots. But sliding into the fourth spot was Hockey Night in Canada on CBC, marking the first time in more than a year the program has been among the five most-watched programs in the country.
The April 8 broadcast of Hockey Night covered the Leaf's nail-biting, playoff-cinching match against the Pittsburgh Penguins. The game boasted an average of 1.86 million viewers and broke into the top five in most English-speaking markets (with Montreal being the only exception).
But other than rookie Auston Matthews' eye-popping goal in the last three seconds of the match on April 8, there were few surprises across the regions. Big Bang appeared in the top three spots of all Anglo markets for the week, while both the original NCIS and its New Orleans spin-off fared well across the country, as did Bull, Survivor and Designated Survivor. In Montreal CTV won the week, with all five top programs — The Big Bang Theory, Designated Survivor, Masterchef Canada, The Voice and Criminal Minds — airing on the Bell Media-owned network.
La voix on TVA continued to dominate Quebec's French-speaking markets, while SRC's Tout le monde en… moved up to the second spot. TVA's LOL:-) remained in the top five for the second week in a row, moving up to number three, while SRC's Lâcher prise and TVA's Vlog rounded out the top spots.
Here are the top-ranked daily measured shows by market (AMA for all persons 2+), according to Numeris, for April 3 to 9, 2017:
Canada
1. The Big Bang Theory on CTV Thursday at 8 p.m.: 3.36 million viewers
2. Survivor on Global Wednesday at 8 p.m.: 2.22 million viewers
3. NCIS on Global Tuesday at 8 p.m.: 2.02 million viewers
4. Hockey Night in Canada on CBC Saturday at 7:06 p.m.: 1.86 million viewers
5. Designated Survivor on CTV Wednesday at 9 p.m.: 1.83 million viewers
Montreal (anglophone)
1. The Big Bang Theory on CTV Thursday at 8 p.m.: 128,000 viewers
2. Designated Survivor on CTV Wednesday at 10 p.m.: 72,000 viewers
3. Masterchef Canada on CTV Thursday at 9 p.m.: 63,000 viewers (tie)
3. The Voice on CTV Monday at 8 p.m.: 63,000 viewers (tie)
5. Criminal Minds on CTV Wednesday at 9 p.m.: 61,000 viewers
Quebec (francophone)
1. La Voix on TVA Sunday at 7:30 p.m.: 2.2 million viewers
2. Tout le mount en… on SRC Sunday at 8 p.m.: 1.09 million viewers
3. LOL:-) on TVA Sunday at 7 p.m.: 1.02 million viewers
4. Lâcher prise on SRC Monday at 7:30 p.m.: 903,000 viewers
5. Vlog on TVA Sunday at 6:30 p.m.: 891,000 viewers
Toronto/Hamilton
1. The Big Bang Theory on CTV Thursday at 8 p.m.: 811,000 viewers
2. Hockey Night in Canada on CBC Saturday at 7:06 p.m.: 629,000 viewers
3. NCIS on Global Tuesday at 8 p.m.: 496,000 viewers
4. Survivor on Global Wednesday at 8 p.m.: 477,000 viewers
5. Bull on Global Tuesday at 10 p.m.: 101,000 viewers
Edmonton
1. Oilers vs. Canucks on Sportsnet Sunday at 7:12 p.m.: 198,000 viewers
2. Hockey Night in Canada on CBC Saturday at 8:05 p.m.: 190,000 viewers
3. The Big Bang Theory on CTV Thursday at 9 p.m.: 173,000 viewers
4. Hawaii Five-O on Global Friday at 10 p.m.: 106,000 viewers
5. MacGyver on Global Friday at 9 p.m.: 100,000 viewers
Calgary
1. The Big Bang Theory on CTV Thursday at 9 p.m.: 150,000 viewers
2. NCIS on Global Tuesday at 9 p.m.: 124,000 viewers
3. NCIS: New Orleans on Global Tuesday at 8 p.m.: 105,000 viewers
4. Bull on Global Tuesday at 10 p.m.: 99,000 viewers
5. Hockey Night in Canada on Sportsnet Saturday at 8:05 p.m.: 96,000 viewers
Vancouver/Victoria
1. NCIS on Global Tuesday at 8 p.m.: 207,000 viewers
2. The Big Bang Theory on CTV Thursday at 10 p.m.: 181,000 viewers
3. NCIS: New Orleans on Global Tuesday at 10 p.m.: 179,000 viewers
4. Bull on Global Thursday at 9 p.m.: 174,000 viewers
5. Survivor on Global Wednesday at 8 p.m.: 170,000 viewers