Fashion goes undercover with Joe Fresh
The St. Joseph publication is unveiling its second special-format cover this year as it explores a new way of working with brands on editorial content.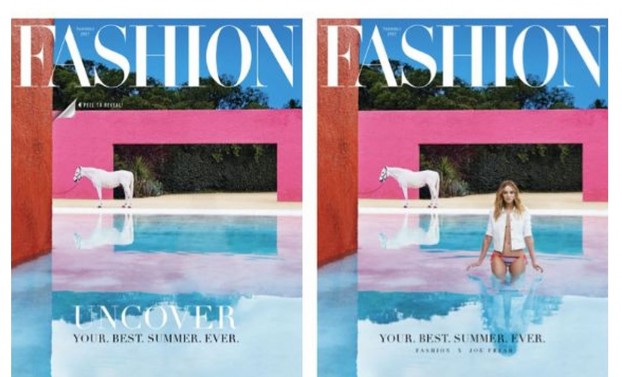 Fashion Magazine has unveiled a market first "peel-to-reveal" cover for its Summer 2017 issue in partnership with Joe Fresh.
The cover features a high-end outdoor pool scene shot in Cuadra San Cristobal, Mexico — but when readers peel back a portion of the cover, Canadian model Heather Marks appears immersed in the scene along with the copy "Fashion X Joe Fresh." The issue, which hits stands May 15, comes two months after Fashion converted its cover into a customizable flip-book featuring model Coco Rocha with L'Oreal Paris.
Jacqueline Loch, VP and group publisher of women's brands at St. Joseph Media, told MiC that the first special cover of the year was a major success for the brand, earning 104 million media impressions (across both earned and paid media) in 15 days. Loch estimated that this was about twice as many impressions as the title's average cover.

"Our goal with the integration experience is to make it truly editorial," she said. "We're not ghettoizing the experience to just a sidebar or assigning it to a creative department. It becomes part of the editorial."
Loch said more specialty covers are in the works, although she would not offer an exact number of how many are planned for this year. She said Fashion is not planning on sticking to strictly the peel-to-reveal or the flip-book styles, and that the magazine is willing to work with brands to come up with new cover creatives.
The cover is the second major advertorial collaboration between Fashion and Joe Fresh. The retailer paired with Dentsu Media on the execution, which also includes an eight-page #FASHIONxJoeFresh fashion feature.
Loch would not share specifics on ad sales for Fashion but said newsstand sales have been flat year-over-year, which she said is positive as flat is "the new up."