Another big week for Big Bang: Numeris
The long-running comedy brought in the highest average minute audiences across the country for the week of May 1 to 7, and also dominated in most regional markets.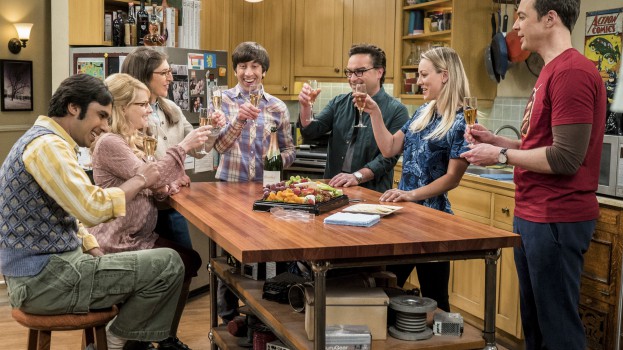 There were few surprises in the Numeris report for the week of May 1 to 7, least of all the fact that The Big Bang Theory on CTV brought in the highest average-minute audience (2+) of all single-night programs for the week.
Pulling in 3.13 million viewers (down slightly from 3.34 million the previous week), Big Bang was followed closely by Global's Survivor (2.1 million) and NCIS (2.08 million) and Bull (1.84 million). Rounding out the top five was CTV's Designated Survivor (1.69 million). All five of those series were renewed by their respective U.S. networks leading up to the New York upfronts, which are currently underway.
Big Bang also swept all of the country's Anglophone regions save for Vancouver/Victoria, where NCIS came out on top. A follow-up episode of The Big Bang Theory which aired Thursday at 9:30 also cracked the top fives in Calgary, Edmonton and Montreal.
In Quebec's French-speaking market, TVA swept the week, with the finale of La voix on May 7 bringing in 2.43 million viewers for the night (up from 2.11 million last week). The reality competition series was followed in the ranks by Sunday night favourites LOL:-) and Vlog, followed by La poule aux oeufs d'or and an extra episode of La voix on May 1. While La voix has officially finished for the summer, TVA's youth version of the series, La voix junior, is set to premiere at a later date this fall.
Here are the top-ranked daily measured shows by market (AMA for all persons 2+), according to Numeris, for May 1 to 7, 2017:
Canada
1. The Big Bang Theory on CTV Thursday at 8 p.m.: 3.13 million viewers
2. Survivor on Global Wednesday at 8 p.m.: 2.1 million viewers
3. NCIS on Global Tuesday at 8 p.m.: 2.08 million viewers
4. Bull on Global Tuesday at 9 p.m.: 1.84 million viewers
5. Designated Survivor on CTV Wednesday at 9 p.m.: 1.69 million viewers
Montreal (anglophone)
1. The Big Bang Theory on CTV Thursday at 8 p.m.: 126,000 viewers
2. Designated Survivor on CTV Wednesday at 10 p.m.: 82,000 viewers
3. The Big Bang Theory on CTV Thursday at 8:31 p.m.: 78,000 viewers
4. Criminal Minds on CTV Wednesday at 9 p.m.: 72,000 viewers
5. Marvel's Agents of SHIELD on CTV Wednesday at 8 p.m.: 60,000 viewers
Quebec (francophone)
1. La voix on TVA Sunday at 7:30 p.m.: 2.43 million viewers
2. LOL:-) on TVA Sunday at 7 p.m.: 1.01 million viewers
3. Vlog on TVA Sunday at 6:30 p.m.: 956,000 viewers
4. La poule aux oeufs d'or on TVA Wednesday at 7:30 p.m.: 928,000 viewers
5. La voix on TVA Monday at 7:30 p.m.: 886,000 viewers
Toronto/Hamilton
1. The Big Bang Theory on CTV Thursday at 8 p.m.: 789,000 viewers
1. Survivor on Global Wednesday at 8 p.m.: 464,000 viewers
3. Designated Survivor on CTV Wednesday at 10 p.m.: 434,000 viewers
4. NCIS on Global Tuesday at 8 p.m.: 433,000 viewers
5. Bull on Global Tuesday at 9 p.m.: 406,000 viewers
Edmonton
1. The Big Bang Theory on CTV Thursday at 9 p.m.: 188,000 viewers
2. NCIS: Los Angeles on Global Sunday at 9 p.m.: 110,000 viewers
3. The Big Bang Theory on CTV Thursday at 9:31 p.m.: 108,000 viewers
4. Bull on Global Tuesday at 10 p.m.: 100,000 viewers
5. NCIS on Global Tuesday at 9 p.m.: 99,000 viewers
Calgary
1. The Big Bang Theory on CTV Thursday at 9 p.m.: 160,000 viewers
2. NCIS on Global Tuesday at 9 p.m.: 112,000 viewers
3. The Big Bang Theory on CTV Thursday at 9:31 p.m.: 97,000 viewers
4. Bull on Global Tuesday at 10 p.m.: 95,000 viewers
5. NCIS: New Orleans on Global Tuesday at 8 p.m.: 93,000 viewers
Vancouver/Victoria
1. NCIS on Global Tuesday at 8 p.m.: 179,000 viewers
2. The Big Bang Theory on CTV Thursday at 8 p.m.: 172,000 viewers
3. Survivor on Global Wednesday at 8 p.m.: 169,000 viewers
4. The Amazing Race on CTV Thursday at 10 p.m.: 163,000 viewers
5. Masterchef Canada on CTV Thursday at 9 p.m.: 150,000 viewers