VR is still a niche in Canada: study
A study from MTM found that VR use and ownership are still relatively low, and users are mainly young, affluent and tech-savvy.
Many tech watchers speculated that 2016 had potential be the "year of VR" — but others were cautious, anticipating a slow start to the tech trend.
A new study by the Media Technology Monitor (MTM) has shown that VR may still be in the "slow start" stage for Canadian consumers. The study, which used a mixed-method approach to survey 4,000 Anglophone Canadians, found that so far, only 10% of Canadian anglophones have used a VR headset — and just 2% actually own one.
The VR study, the first of its kind for MTM, took a dive into the media and entertainment habits of those who do own headsets, and the data gathered indicates that VR may still be most popular among young people, wealthier households and gamers.
The slow pickup comes despite numerous moves to bring VR into the mainstream, such as Samsung's virtual reality broadcasts of NBA games and Sportsnet's Molson-branded immersive NHL games.
For example, although only 2% of Anglophone Canadian respondents owned a VR headset, students over-indexed in ownership (5%), as did people with a household incomes of over $150,000 per year (4%) and the 18 to 34 demographic (6%). VR owners also were more likely to be male (3% of male respondents owned a headset compared to only 1% of females).
VR users are also significantly more likely to own a gaming console — while 51% of anglophone Canadians own a console, 66% of VR users do. Users also over-index in online gaming (57% of Canadians versus 64% of VR consumers). They also over-index in digital media consumption (such as Netflix and online radio), and watch only about half as much traditional television as non-VR users do.
But it should come as no surprise that price matters to Canadians — and VR headsets still vary wildly in price. The price of a Google Cardboard set is $20 in Canada, although Google also provides the instructions for a user to make it themselves for free. It can also be used with any smartphone (whereas the similarly lower-priced Samsung Gear VR is only compatible with certain Samsung models).
By many definitions of VR, the kind presented through Google Cardboard and Samsung Gear is not "true" VR — the headsets create a 360-degree environment, but the graphics cards, retina display and the sound capabilities of a smartphone aren't enough to create the fully immersive experience. The sets that are able to offer that  — the Playstation VR, HTC Vive and Oculus have a much higher price point to begin with (ranging from the Playstation's $549 tag to the HTC's $1,149), and all require compatible hardware (including game consoles or PCs with the right graphic specs) to perform, adding to the cost.
But the sets that Canadians are most fond of indicate that price is a higher priority than the "true VR" experience. Of those who owned a VR headset, there was a correlation between lower-priced headsets and market share. For example, 38% of headset owners owned a Google Cardboard, whereas only 6% had a HTC Vive.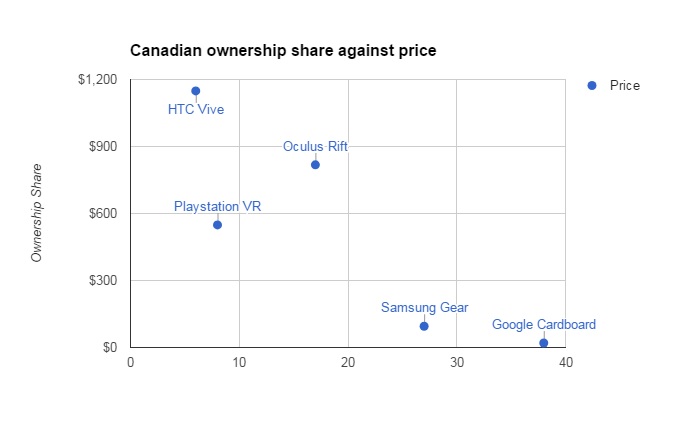 Photo by Alex Ruban, courtesy of Unsplash