Spotted! Toronto's pop-up pasta party
To promote its new Riserva line of pasta sauces, Classico has undertaken its first OOH stunt, making a Midtown Toronto home into an Italian restaurant experience.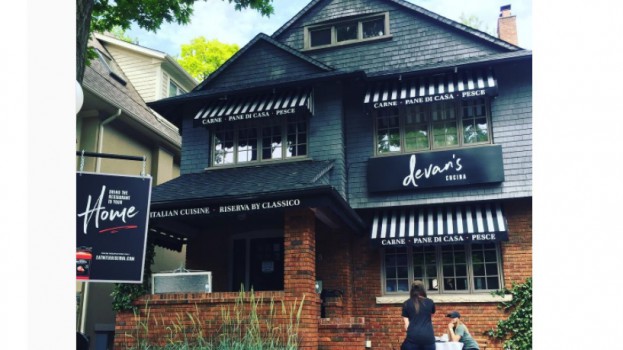 In Toronto's Moore Park neighbourhood, a new "restaurant" popped up over Father's Day weekend — Devan's Cucino.
Pop-up restaurants in Midtown Toronto aren't uncommon, but this pop-up restaurant came with a twist: it was out of a private home, which was outfitted like a classic restaurant, and served as an experiential pop-up for Kraft's Classico pasta sauce brand, promoting its new Riserva line of pasta sauces. The restaurant-style experience was hosted by Chef Devan Rajkumar, who will continue to host private dinner parties throughout the summer.
The house was outfitted in classic restaurant stylings, from awnings on the windows to a red carpet walkway, plus a patio and signage. The campaign, which was executed by Starcom on media, Taxi on creative and Edelman on PR, also included a partnership with online service EatWith, which allows homeowners to turn their dining rooms into temporary "restaurants" through private dining parties.
The pop-up experience only accepts reservations online. Similar experiences will roll out in Montreal and Vancouver, with dates TBA. This is the first campaign to promote the Riserva line, which launched earlier this spring. The pasta sauces are also currently being promoted through digital, social and TV advertising, with the restaurant activation advertised on social and PR.
The target of the activation is adults age 25 to 35 who are considered both foodies and heavy digital users. The messaging of the campaign, according to a Kraft spokesperson, is that "eating in is cool again."
It's a similar brand message to that employed by Delissio earlier this year, which capitalized on the popularity of eating in (thanks to services like Uber Eats and Foodora) and did a one-night delivery stunt for National Pizza Day.
The opening night dinner parties in all three locations will be filmed to create a digital video, which will be pushed out on social media over the summer.
The neighbourhoods chosen were selected to blend high foot traffic with a demographic and look that matched the "premium feel" of the brand. The pop-up is the first experiential stunt for Classico, with more planned as it looks to increasingly partner with companies like EatWith in order to connect with its target. "This will help us build credibility with our consumer and capture their attention in a way people aren't used to seeing, especially from a pasta sauce brand," they said.