Twitter goes to the bots for its new campaign
The social media platform is using chatbots to engage users with a new campaign, while also testing the tech as a new platform feature.
Twitter Canada has embarked on a campaign that uses two of its platform features — chatbots and Moments — for the first time.
The efforts are centered around its "Canada150″ campaign, which is aimed at growing its user base and also increasing usage and engagement with existing users. In Twitter, the Moments and chatbot will appear to users through promoted Tweets. Externally, the campaign also includes out-of-home installations. Both pieces incorporate the same Canadian imagery (including things often associated with Canada online, like ketchup chips and well-known Canadian hashtags, like "#CanadianProblems").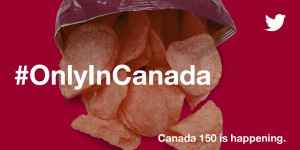 Laura Pearce, head of consumer marketing, told MiC that Twitter Canada wanted to use tech and features it had already used for clients to promote itself — but noted the campaign will also serve as a way to learn more about user habits and create potential new features.
"We figured, we use bots for our clients all the time," said Pearce, pointing to clients like Nike, which uses a Twitter-native chatbot to recommend training routines to users, and Focus Features, which is currently using a bot to help users buy movie tickets to The Beguiled. "We figured now is the right time to test one that will enhance our customers' experience."
The Twitter Canada campaign chatbot will reach users through a promoted Tweet (targeted, naturally, at all Canadian users) that prompts them with three options: take a quiz about Canadian slang (which gives them a chance to win a T-shirt), serve them content based on previous platform use, or get new recommendations for Canadian accounts to follow. For the latter two, the bot will serve the users with recommendations daily until the campaign concludes on July 1.
Twitter will also use its own "Moments" feature to boost curated collections of Canadian Tweets and images.
Pearce couldn't offer exact metrics on the interactions with the Canadian Moments or the chatbot since the campaign's launch on June 20, but said Twitter is pleased with the number of interactions the bot is getting thus far. She said it may also be used as a testing ground for new recommendation features in the future.
Existing bot use on the platform includes the "Find Great Follows" option, which asks users what they're interested in (sports, entertainment, news, politics) and then serves them with five customized recommendations for Canadian accounts to follow. The "Find Great Content" bot is similar, with users being served with articles, videos and other content tailored to their tastes.
Twitter worked with media agency Vizeum and creative agency Open on the campaign.
Giving its users more reasons to Tweet has become a priority for Twitter. For its Q1 financial results in late April, the social network posted $548 million in revenue (globally) for the quarter, down 8% year-over-year. It did report that its daily active user base had increased for four consecutive quarters and was up 14% from Q1 2016, but it did not revealed its exact number of daily active users. Average monthly active users were 328 million for the quarter, up 6% year-over-year.
The Canada 150 promotion is the second campaign Twitter Canada has executed to encourage use of the platform in the market — the first one, which centered around the Stanley Cup Playoffs, also incorporated the concept Twitter has dubbed "FONK" (fear of not knowing, a play on the better-known concept of fear of missing out).
From April 12 (when the Stanley Cup Playoffs and the campaign began) to June 25, 2017, Twitter Canada saw 1.5 times the number of tweets in the conversation around #StanelyCup and the Stanley Cup Playoffs. Pearce credits that bump to the campaign and the fact that there were five Canadian teams in the 1st round.