ICYMI: New detective drama on Bravo, plus Iris OOH winners
In case you missed it: Bell Media has announced a new detective drama on Bravo, OMAC has named its latest IRIS winners and Outlander is ready to return to W Network.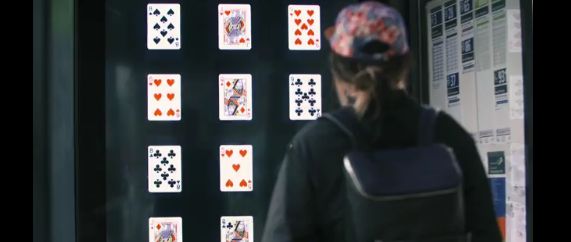 OMAC awards Q2 Iris Awards
OMAC has named Kijiji Auto Search and Festival de Magie de Québec as the Q2 winners of its Iris Awards.
Kijiji's spot from Cloudraker used commuter patterns and demographic data mapping to target commuters in specific neighbourhoods around Toronto with digital OOH ads. For example, busy moms likely using GO Transit were served an ad that said "hockey mom wants car with game" and men were targeted with the copy  "midlife crisis, mid-range salary," along the Gardiner and on Bay St.
For the Festival de Magie de Québec, Lg2 and Quebec City-based Cortex Media Used eye-tracking technology to turn a transit shelter screen on Bell Media's Astral OOH network into a classic card game of "pick a card." Transit-goers were asked to focus on one of several cards displayed, and then as if by magic were shown the card they had been focusing on.
Bravo adds new detective drama
Bell Media is adding a detective drama to Bravo with Carter. The 10-part detective procedural will air in 2018 before heading to CraveTV. Carter stars Jerry O'Connell as a detective on a hit U.S. TV show who is forced to return to his hometown after a public meltdown. He goes on to become a real-life detective and later partners with a veteran of the local force played by Sydney Tamiia Poitier (Chicago P.D.). Newly announced additions to the cast are Kristian Bruun (Orphan Black), Sherry Miller (Bitten) and John Bourgeois (X-Men).
Outlander announces return
W Network has announced the return of its Golden Globe-nominated love story and adventure drama, Outlander. The show's 13-episode third season will premiere on Sunday Sept. 10 at 9 p.m. This season is based on Voyager, the third of eight books in Diana Gabaldon's international best-selling Outlander series.