People Moves: Dentsu Aegis Network, Rumble and SportBox
Dentsu Aegis Network has hired its first-ever global chief technology officer to support its goal to go 100% digital by 2020.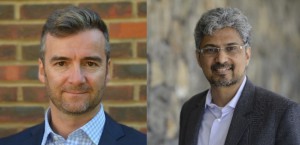 New global chief technology officer at Dentsu
Dominic Shine has been appointed to the position of global chief technology officer with the Dentsu Aegis Network. This is the agency's first chief technology officer, and the appointment is part of its strategy to become a 100% digital economy business by 2020, according to a release. Shine, who most recently served as global CIO of News Corp, will officially join the business on October 1. His role will focus on overseeing day-to-day technology management, long-term tech strategy and taking a broader remit across the agency's tech, data and innovation agendas.
Guruduth Banavar joins Rumble advisory board
Guruduth Banavar, who was one of the pioneers of IBM's Watson AI, has joined the board of directors with Toronto video tech company Rumble. Banavar, who led tech teams at IBM for 12 years and now serves as chief technology officer of Viome, has more than two decades experience in the field of artificial intelligence and cloud computing. He will serve as a mentor to Rumble's technology team as it aims to scale the platform's machine learning and AI capabilities.
SportBox absorbs Ōs Group, appoints new EVP
Global sports marketing agency SportBox Entertainment Group, which has offices in Toronto as well as San Francisco, has acquired sports promotion group Ōs Group. Ōs Group principal Francisco Terreros will now serve as EVP of SportBox. As EVP, he will lead the formation of a global soccer division at the company. Over the last year, SportBox has established partnerships with brands such as Levelwear and Major Series of Putting, has managed and operated PGA Tour event properties and has signed talent such as CBS Sports personality Hana Ostapchuk and Olympian Samuel Girard. Terreros will work out of the company's San Francisco office.
Pictured: Dominic Shine (left), Guruduth Banavar (right)