Spotted! Tourism New Brunswick's urban spin on whale watching
The tourism agency challenged urbanites to hail a cab and find out a bit more about the East Coast province.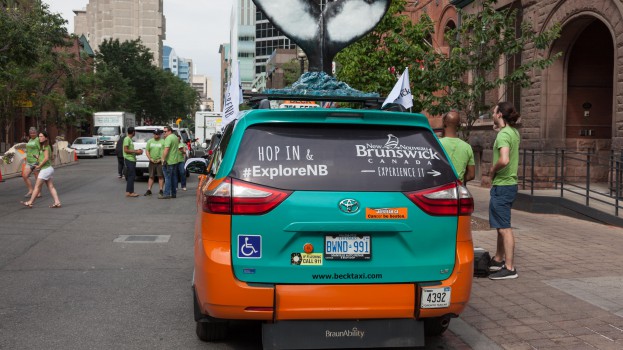 Toronto isn't the first place that comes to mind when someone mentions whales or whale watching — but a recent experiential campaign looked to change that.
Tourism New Brunswick recently partnered with Toronto-based experiential/event agency Fervent Events, Vaughan-based specialty taxi-top ad network Sharkfin and Beck Taxi to promote travel to the province. A one-day event on July 20 saw a number of Beck Taxis wrapped in Tourism New Brunswick's branding, including a select few with whale tails topping the cabs.
Those lucky enough to spot and hail the cabs were treated to a free ride — along with some facts about New Brunswick. In addition to the whale tails, Tourism New Brunswick branding decorated the inside of the cars, with tablets inside displaying videos of New Brunswick's scenery and attractions, and all the reasons to visit the East Coast province. Materials were branded with #ExploreNB, the hashtag Tourism New Brunswick uses to promote exploration of the province.
A similar activation occurred on the same day in Montreal, however that effort only featured the taxi wraps and not the whale tails.
No paid media was used to support the activation.