Active International goes digital for first Canadian campaign
The company has expanded its focus to reach more marketers and is doing so through targeted digital as well as mass reach OOH.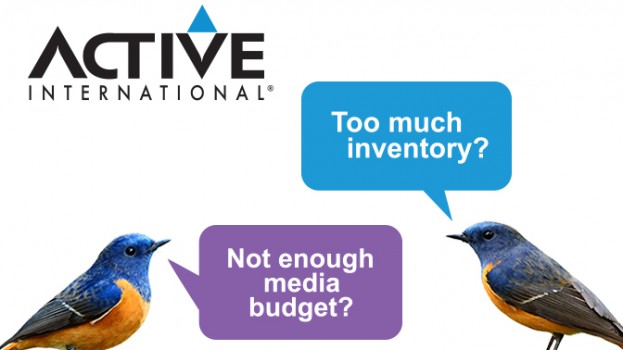 Corporate trade company Active International's Canadian outpost has been in business for 27 years — and it's just putting its first advertising campaign into market.
Kimberly Presnail, VP of marketing and corporate culture with Active International, said that the company has traditionally gained business through its sales force, targeting senior finance and procurement staff. However, choosing to actively market the company with a campaign was driven by Active's goal to reach a new audience — marketers.
"Our sales force has been focused on the inventory side of the corporate trade relationship," said Presnail. "We're now recognizing marketers as key decision-makers, as the other part of that equation. Marketers' budgets are under constant scrutiny. They've got bigger targets, more responsibility, bigger objectives."
The business of corporate trade (also known as corporate barter) is the practice of exchanging excess inventory for trade credits, cash or a combination of both. The practice has been around for many years, but Presnail said with marketers becoming more involved in trading decisions, the company wanted to appeal to the group in a language they understood.
It's targeting those markets mainly through a digital buy, with custom content on LinkedIn, as well as on Sportsnet and trade media (the campaign is currently appearing on MiC sister site StrategyOnline.ca).
Active is also advertising the campaign's "Two birds, one stone" creative (which does feature two birds and one stone, although none of the violent imagery associated with that metaphor) with digital billboards around the Toronto's Gardiner Expressway and Yonge & Dundas Square.
The display advertising leads audiences to two different products: Active's "Lunch and Learn" sessions and a strategic e-book on corporate trade.
While the digital buys target digital-savvy working professionals, Presnail said the OOH buys are largely because of some of the out-of-home vendors were partners of Active and the deal "made fiscal sense." However, she said, the buys were still strategic. "We know that many of these mid- and high-level marketers are commuters, so we targeted them at areas of heavy foot traffic and car traffic, like Dundas Square and the Gardiner."
The LinkedIn ads was handled by New York-based Varick Media Management while Active handled all other media buys directly. Creative was developed by Bob's Your Uncle.
The campaign components kicked off last week and will run until early September.