Spotted! Fancy Feast goes experiential to target foodies
The Purina brand targeted foodie cat owners in downtown Toronto with a pop-up that included human versions of its cat food.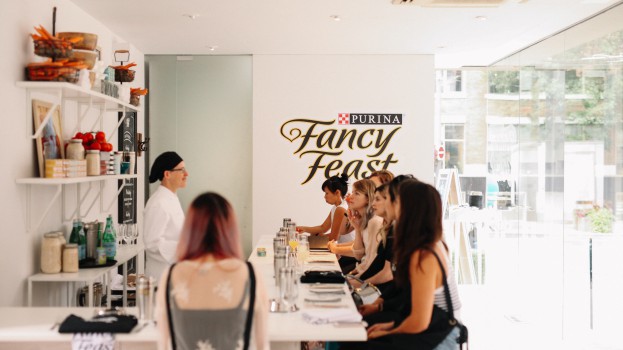 Purina stuck a toe (or paw) into the experiential pool last weekend with a pop-up experiential event in downtown Toronto.
The pop-up shop's downtown core location was chosen in order to reach cat-owning condo dwellers.
In addition to being a brand first for the market, Mark Prusha, assistant marketing manager for Purina North America, said the pop-up also targeted a younger and more millennial-aged demo than Fancy Feast usually chases. The cat food brand usually hones in on women aged 35 older.
Prusha said Fancy Feast's market share in Canada is growing, currently sitting at around 30% of the overall grocery market share for wet cat food. He said Purina's sister brand, Friskies has a slightly larger share in a market where awareness is hard to come by thanks to an abundance of competing brands..
The pop-up is part of a larger awareness campaign aimed at positioning Fancy Feast around foodie trends. At the pop-up, this was brought to life with a modern minimalist aesthetic, and a menu that highlighted a different Fancy Feast flavour for each day of the week.
Purina also flew its Purina Culinary Centre executive chef Amanda Hassner in for the event to show the human food inspiration behind Fancy Feast, and to make samples of the chicken and gravy flavour for people to try. (Brand ambassadors were on hand to give away actual Fancy Feast samples for the feline friends back at home.)
It wouldn't be a pop-up without an Instagram wall. Fancy Feast's donated a week's worth of food to the Toronto Humane Society for every photo taken and shared on the hashtag #ForTheCatFoodie.
The larger awareness campaign campaign, which began on  July 10 and will continue to the end of August, is currently running on female-skewing Corus Entertainment specialty channels, including Food Network Canada and HGTV. The campaign includes a contest where people who enter have the chance to win a $10,000 prize pack from Fancy Feast.
Other elements include a Pinterest campaign (July 17 to Aug. 31) and an in-store shelf-blade (July 10 to Aug. 13).
Media on the campaign is from GroupM, creative is from Union and event and public relations by North Strategic.