Amazing Race Canada holds the top: Numeris
The Canadian original stayed ahead of America's Got Talent for another week, with both growing their average audiences slightly.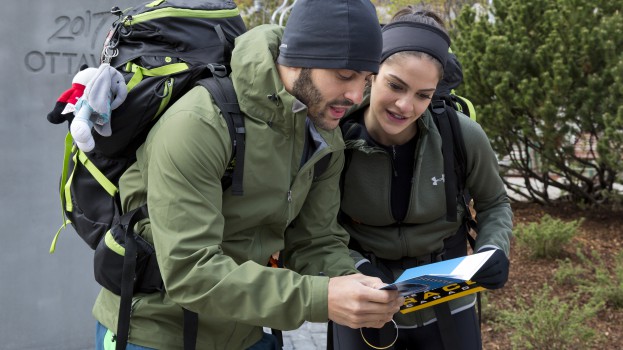 The Amazing Race Canada once again beat out America's Got Talent for the highest average minute audience (2+) of all single-night programs for the week. That's according to the latest Numeris report, which covers the week of Aug. 7 to 13.
Both reality shows gained viewers over last week, with CTV's Amazing Race Canada grabbing 1.9 million viewers and City's America's Got Talent taking 1.88 million viewers.
Third-place finisher World of Dance also grew its audience over last week (pulling in 1.45 million viewers) and held onto the number three spot. The competition show has now concluded for its first season, and managed to hold a spot in the top five for all weeks that it aired. Big Brother once again took the fourth spot, as well as the fifth, with 1.27 million viewers for its Wednesday broadcast and 1.18 million viewers for Thursday.

Unscripted programming dominated the national market — the highest-ranking scripted program was a rerun of The Big Bang Theory on CTV, which came in eighth of all single-night programs. Only in Calgary did any scripted programming take the top five (with Global series The Night Shift and Salvation pulling in 58,000 and 48,000 viewers, respectively).
In the Francophone Quebec market, SRC's Les chefs was back on top, with 703,000 viewers.
Here are the top-ranked daily measured shows by market (AMA for all persons 2+), according to Numeris, for Aug. 7 to 13, 2017.
Canada
1. The Amazing Race Canada on CTV Thursday at 8 p.m.: 1.9 million viewers
2. America's Got Talent on City Tuesday at 8 p.m.: 1.88 million viewers
3. World of Dance on CTV Tuesday at 10:01 p.m.: 1.45 million viewers
4. Big Brother on Global Wednesday at 8 p.m.: 1.27 million viewers
5. Big Brother on Global Thursday at 9 p.m.: 1.18 million viewers
Montreal (anglophone)
1. World of Dance on CTV Tuesday at 10:01 p.m.: 75,000 viewers
2. American Ninja Warrior on CTV Monday at 8 p.m.: 67,000 viewers
3. America's Got Talent on City Tuesday at 8 p.m.: 66,000 viewers
4. The $100,000 Pyramid on CTV Sunday at 10 p.m.: 56,000 viewers
5. The Amazing Race Canada on CTV Thursday at 9 p.m.: 55,000 viewers
Quebec (francophone)
1. Les chefs on SRC Monday at 8 p.m.: 703,000 viewers
2. Refuge animal on TVA Monday at 7 p.m.: 669,000 viewers
3. L'événement JMP 2015 on TVA Monday at 9 p.m.: 666,000 viewers
4. Ma maison bien-aimée on TVA Tuesday at 8 p.m.: 562,000 viewers (tie)
4. LOL:-) on TVA Monday at 7:30 p.m.: 562,000 viewers (tie)
Toronto/Hamilton
1. America's Got Talent on City Tuesday at 8 p.m.: 439,000 viewers
2. The Amazing Race Canada on CTV Tuesday at 8 p.m.: 305,000 viewers
3. World of Dance on CTV Tuesday at 10:01 p.m.: 303,000 viewers
4. Big Brother on Global Wednesday at 8 p.m.: 237,000 viewers
5. MasterChef on CTV Wednesday at 8 p.m.: 219,000 viewers
Edmonton
1. American Ninja Warrior on CTV Monday at 9 p.m.: 90,000 viewers
2. The Big Bang Theory on CTV Thursday at 9:31 p.m.: 82,000 viewers
3. The Amazing Race Canada on CTV Tuesday at 9 p.m.: 80,000 viewers
4. Masterchef on CTV Wednesday at 9 p.m.: 79,000 viewers
5. America's Got Talent on City Tuesday at 9 p.m.: 75,000 viewers
Calgary
1. The Amazing Race Canada on CTV Tuesday at 9 p.m.: 80,000 viewers
2. Big Brother on Global Sunday at 9 p.m.: 59,000 viewers
3. The Night Shift on Global Thursday at 9 p.m.: 58,000 viewers
4. American Ninja Warrior on CTV Monday at 9 p.m.: 53,000 viewers
5. Salvation on Global Wednesday at 10 p.m. 48,000 viewers
Vancouver/Victoria
1. America's Got Talent on City Tuesday at 8 p.m.: 197,000 viewers
2. The Amazing Race Canada on CTV Tuesday at 8 p.m.: 130,000 viewers
3. World of Dance on CTV Tuesday at 10:01 p.m.: 125,000 viewers
4. America's Got Talent on City Wednesday at 8 p.m.: 108,000 viewers
5. MasterChef on CTV Wednesday at 8 p.m.: 89,000 viewers