CF expands its #TorontoStyle campaign
Cadillac Fairview has brought back its shopper selfies to promote the Eaton Centre, and is also tapping local fashion influencers to get the message out.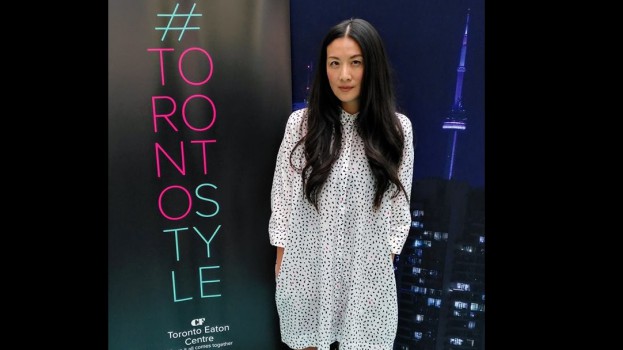 CF Toronto Eaton Centre has begun the second iteration of its "#TorontoStyle" campaign. The campaign, which aims to promote the Eaton Centre as home to unique fashion stores, has expanded beyond its social roots to include out of home, print, influencer marketing and other media.
The new campaign kicked off last week with the installation of a new selfie mosaic on the first floor of the downtown shopping centre. A large light-up display with the #TorontoStyle tag was erected near the mall fountain. The message was composed of a collection of selfies taken by shoppers at a camera a few feet away, with the photos being updated in real time. The display will be live until the end of October.
The campaign will also include TV star and blogger Lainey Lui as its official brand ambassador. Lui will promote the hashtag on her own social media channels (she has almost 100,000 followers on Twitter and 60,000 on Instagram) and will also host a contest next month challenging fans to submit their best looks online. Other influencers promoting the hashtag include Toronto Instagram stars Zeba, Kaylee Griffin and Dani Goddard. The three IG stars will also take part in a promotional video that will be broadcast from the mall's LED digital tower.
Louise Della Fortuna, senior manager of retail marketing for Cadillac Fairview, told MiC the campaign will also make use of the CF Eaton Centre's own assets including indoor signage and vacant stores to promote the the campaign. The campaign creative will be composed entirely of the selfies and submitted social posts, which Della Fortuna said makes it more authentic and appealing to young audiences.
Last year's campaign originated as a social media effort, promoting the #TorontoStyle hashtag to engage with the online community and communicate deals and updates on the mall's retail offerings, as well as encouraging shoppers to post their own Toronto Style content.
The only non-social aspect of last year's campaign was a one-day OOH stunt which encouraged passersby at Yonge-Dundas Square to take selfies in front of the shopping centre and upload it with the hashtag #TorontoStyle. Those tagged photos were then showcased on CF's proprietary 8,100 square-foot digital billboard. According to a rep for Cadillac Fairview, the stunt resulted in 20,000 customer interactions over the span of eight hours, and more than 400 photos were shared on the tower.
"We wanted to keep the very fun and interactive spirit of last year's campaign," Della Fortuna told MiC. "At the same time we want to keep it very experience-based with the selfie mirror." The inclination toward experiential is part of CF's own strategy to encourage social sharing within its malls, such as through its recent "Inspiration Station" pop-ups or its "#CFHolidayMagic" campaign.
Della Fortuna said Cadillac Fairview has also partnered with Bell Media to promote the campaign throughout the fall, however she was not yet able to release details on which of Bell Media's properties or what programming the campaign will appear against.
Cadillac Fairview did its media buys directly without an agency and enlisted North Strategic on social, PR and influencer marketing.