Star Trek takes the top: Numeris
The new series pulled in more than two million with its CTV broadcast and more than a million on Space.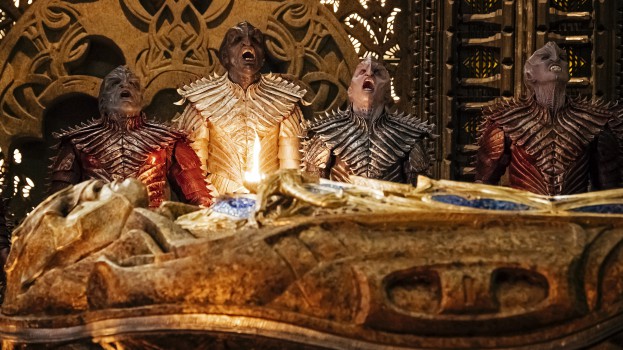 With The Amazing Race Canada out of the running after the end of its season, there was a new show on top of the TV charts for the week of Sept. 18 to 24. The broadcast premiere of Star Trek: Discovery on CTV pulled in the highest average-minute audience (2+), sweeping past this past summer's other favourite series, America's Got Talent, according to Numeris.
Star Trek pulled in a total of 2.27 million viewers nationally on CTV. The simultaneous broadcast on Space (which, like CTV, is owned by Bell Media) also took an average of 1.25 million viewers, putting it in fourth place for the week.
Between the two were the two weekly episodes of America's Got Talent, pulling in 1.88 million for the Tuesday broadcast and 1.8 million for Wednesday. Rounding out the top five was Big Brother, with 1.22 million viewers.
The biggest Trekkies in Canada appear to be in Alberta; Calgary and Edmonton were the two individual markets where Star Trek topped the charts. America's Got Talent took the top spot in the other Anglophone markets (Vancouver/Victoria, Montreal, Toronto/Hamilton).
For major event programming, the Invictus Games opening ceremony was the ninth-highest rated single-night program nationally and managed to break the top five in the Toronto/Hamilton market.
In French Canada, the return of reality competition series La voix junior brought the ratings for TVA; the series premiere topped the week with 1.84 million viewers and pushed last week's top finisher, Unité 9, down to second place.

Here are the top-ranked daily measured shows by market (AMA for all persons 2+), according to Numeris, for Sept. 18 to 24, 2017.
Canada
1. Star Trek: Discovery on CTV Sunday at 8:48 p.m.: 2.27 million viewers
2. America's Got Talent on City Tuesday at 8 p.m.: 1.88 million viewers
3. America's Got Talent on City Wednesday at 8 p.m.: 1.8 million viewers
4. Star Trek: Discovery on Space Sunday at 8:48 p.m.: 1.25 million viewers
5. Big Brother on Global Wednesday at 8 p.m.: 1.22 million viewers
Montreal (anglophone)
1. America's Got Talent on City Tuesday at 8 p.m.: 62,000 viewers
2. America's Got Talent on City Wednesday at 8 p.m.: 60,000 viewers
3. The Big Bang Theory on CTV Thursday at 8 p.m.: 58,000 viewers
4. CTV Evening News Weekend Edition on CTV Saturday at 6 p.m.: 57,000 viewers
5. Masterchef on Wednesday 8 p.m.: 54,000 viewers
Quebec (francophone)
1. La voix junior on TVA Sunday at 7 p.m.: 1.84 million viewers
2. Unité 9 on SRC Tuesday at 8 p.m.: 1.5 million viewers
3. L'échappée on TVA Monday at 8 p.m.: 1.38 million viewers
4. L'heure bleue on TVA Tuesday at 9 p.m.: 1.09 million viewers
5. Boomerang on TVA Monday at 7:30 p.m.: 1.07 million viewers
Toronto/Hamilton
1. America's Got Talent on City Wednesday at 8 p.m.: 449,000 viewers
2. America's Got Talent on City Tuesday at 8 p.m.: 403,000 viewers
3. Star Trek: Discovery on Space Sunday at 8:48 p.m.: 379,000 viewers
4. Invictus Games opening ceremony on CTV Satrday at 8 p.m.: 345,000 viewers
5. The Big Bang Theory on CTV Thursday at 8 p.m.: 314,000 viewers
Edmonton
1. Star Trek: Discovery on Space Sunday at 8:48 p.m.: 103,000 viewers
2. America's Got Talent on City Wednesday at 9 p.m.: 95,000 viewers
3. Star Trek: Discovery on CTV Sunday at 9 p.m.: 88,000 viewers
4. America's Got Talent on City Tuesday at 8 p.m.: 71,000 viewers
5. The Big Bang Theory on CTV Thursday at 9 p.m.: 63,000 viewers
Calgary
1. Star Trek: Discovery on Space Sunday at 8:48 p.m.: 90,000 viewers
2. Masterchef on CTV Wednesday at 9 p.m.: 64,000 viewers
3. American Ninja Warrior on CTV Monday at 8 p.m.: 62,000 viewers
5. CTV Tuesday Movie on CTV Tuesday at 8 p.m.: 55,000 viewers
5. Dancing With the Stars on City Monday at 9 p.m.: 54,000 viewers
Vancouver/Victoria
1. America's Got Talent on City Tuesday at 8 p.m.: 207,000 viewers
2. America's Got Talent on City Wednesday at 8 p.m.: 171,000 viewers
3. Star Trek: Discovery on Space Sunday at 8:48 p.m.: 149,000 viewers
4. Star Trek: Discovery on CTV Sunday at 8 p.m.: 124,000 viewers
5. American Ninja Warrior on CTV Monday at 8 p.m.: 120,000 viewers