Tissot teams with Montreal Canadiens
The watchmaker dives into NHL hockey for its first Canadian sports team sponsorship.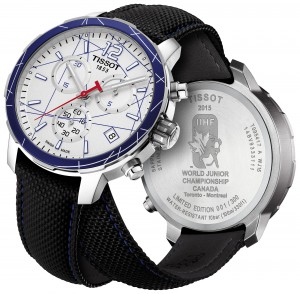 Swiss watchmaker Tissot has sponsored the Montreal Canadiens and expanded its sports partnerships in North America.
Habs fans will see the Tissot logo popping up in their home arena, the Bell Centre, and see their team's branding in authorized Tissot retailers and future ad campaigns in Canada.
The Habs deal marks the first time Tissot has worked with the NHL. Rick Ostrom, managing director of Tissot in Canada, called the deal a "natural partnership" in an email to MiC. "There is a strong, rich istory with both brands in Montreal and Quebec."
The brand, however, is no stranger to hockey. It's the official timekeeper of the International Ice Hockey Federation (IIHF) World Championships and the Swiss national team in its home country. It produced a limited edition watch for the 2015 World Junior championships (pictured above), which Canada hosted.  It's also seen its logo over timeclocks in sports such as basketball, cycling, autoracing and rugby.
Ostrom said sports make a natural sponsorship fit for the brand because they "portray the brand's dynamism and precision timekeeping in action."
While this is the first Canadian sports team in Tissot's sports sponsor portfolio, Ostrom said it may look at others, saying "stay tuned."