Rogers rises to the top: Media Monitors
The telco and media company knocked Ford Dealers out of the top spot for the most radio ads purchased in Toronto.
Rogers knocked the Ford Dealers Association out of the top spot on the Media Monitors chart. The telco and media company went from not appearing on the top 100 last week to buying more radio advertising than any other brand this past week.
The Ford Dealers Association landed at #2 for the week. It was followed by two more new entrants, Canadian Tire and Fido Solutions. Rounding out the top-five was the Acura Dealer Association, which fell from #3 the previous week.
Despite Rogers taking over Ford's top spot, auto dealers remained the top category buyer in Toronto market. Overall, more than 4,800 spots were purchased by advertisers in this category, up from 3,900 the previous week.
In Montreal, CTV continued its streak as the top radio buyer. Canadian Tire also entered the Montreal charts, falling at #2. Hudson's Bay held strong at #3 while furniture retailer Brault and Martineau fell to #4 from #2. The top five was capped off by the Ford Dealers' Association, which moved up from #10 the previous week.
Car and truck dealer associations also took the top in Montreal, buying even more spots than the week before (684 spots this week versus 535 spots last week).
Toronto, by brand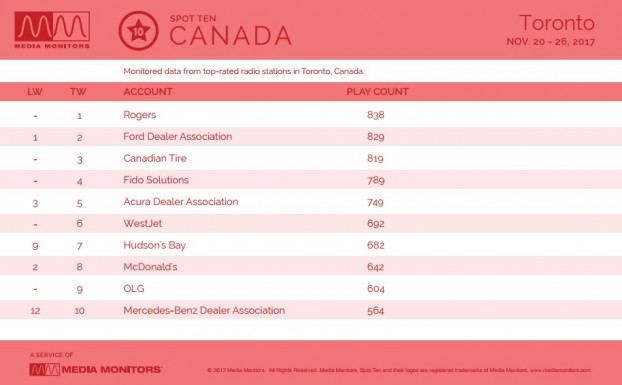 Toronto, by category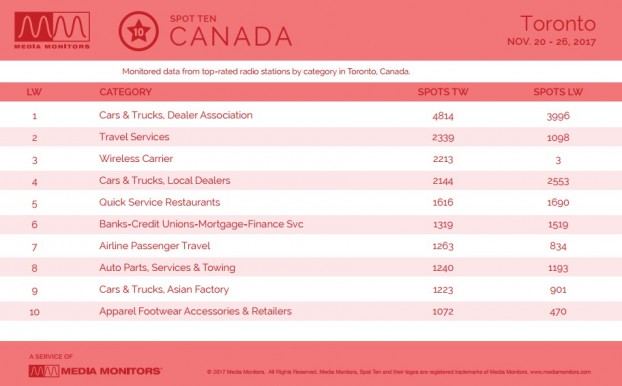 Montreal, by brand
Montreal, by category