Corby ups the spend on New Year's transit campaign
The alcohol brnad is expanding its drinking and driving awareness campaign to a multi-platform, multi-week campaign.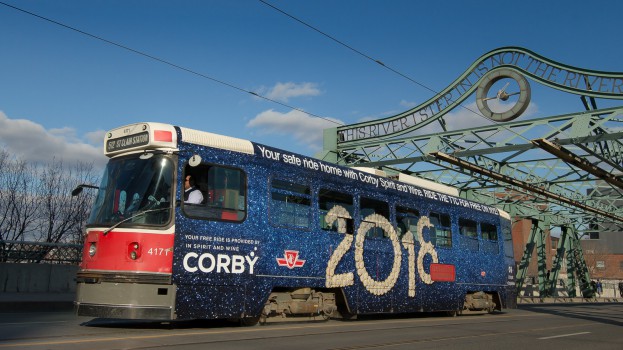 Corby Spirit and Wine has expanded its five-year-old holiday safe driving program to sponsor free transit rides in Toronto. It kicked things off a little earlier this year and turned the single-night effort into a multi-platform campaign.
Corby, parent company of brands such as Polar Ice Vodka and J.P. Wiser's, has sponsored the Toronto Transit Commission's New Year's Eve service since 2012, making Toronto's entire network of subways, buses and streetcars free to ride on that night.
It has extended that program through an additional activation with the LCBO liquor retailer. It's offering free rides beyond just New Year's Eve with more than 24,000 complimentary transit tokens packaged with some of its most popular products across the Greater Toronto Area.
And beyond its typical New Year's awareness advertising on Toronto Transit, Corby will promote the night through OOH advertising on screens at Toronto's Eaton Centre and near College Street. It's also adding an experiential event on Dec. 12 at Yonge-Dundas Square, where it will work with the Ministry of Transportation to promote the night and increase awareness of the dangers of drunk driving.
Valerie Brive-Turtle, director of communications and public relations at Corby, told MiC the company chose to kick off the campaign on Halloween this year. "We wanted to go for the whole holiday season," said Brive-Turtle. "Because we know Halloween is also a very bad night for drinking and driving, it made sense to start there."
Brive-Turtle said that free transit ride program was already its biggest annual awareness campaign, although it also engages in work with government and non-governmental organizations year-round to tackle drinking and driving, as well as environmental issues.
Corby worked directly with TTC on the sponsorship and media buys.