OLG takes Toronto: Media Monitors
Although the government organization was the top individual buyer, quick-service restaurants were the highest-buying category.
The Ontario Lottery and Gaming Commission (OLG) moved up one spot to the top of the Media Monitors chart, becoming the biggest radio buyer in Toronto for the week of Dec. 4 to 10.
It was followed by Shoppers Drug Mart, which made a jump up from #16, and then by new entrant Staples.
Rounding out the list were Spence Diamonds in #4 (which made a big leap from #74) and McDonald's, which held its spot at #5.
Also new to the top 10 was GM Certified Service at #8.
Quick service restaurants were the largest category buyer in Toronto, although fewer spots by those advertisers were purchased this week than last week.
In Montreal, the top of the chart looked awfully familiar. Top-three buyers CTV, Shopico and CraveTV held their respective spots, followed by Tim Hortons (up from #9) and Virgin Mobile (up one from #6).
Although CTV remained at the top, the highest category buyer this week was not cable and television. Restaurants and night clubs were, collectively, the largest category buy. Cable and television advertisers purchased 306 spots, down from last week's 541.
Toronto, by brand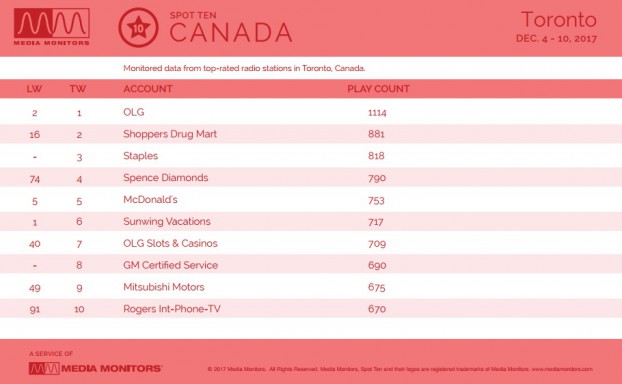 Toronto, by category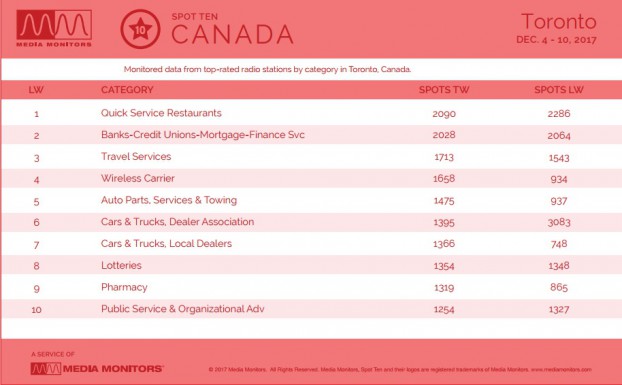 Montreal, by brand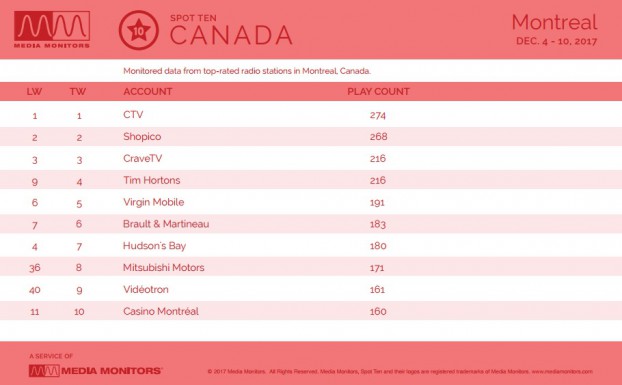 Montreal, by category