Ford cruises to the top: Media Monitors
Dealer associations and local dealers were the most prolific category buyers in Toronto.
Following three weeks at the top of Toronto's radio buying charts, Sunwing has slid to the third-place spot for the week of Jan. 22 to 28. The new top buyer for the market, according to the Media Monitors Charts, is the Ford Dealers Association, which is new to the list for the week.
Between Ford and Sunwing was Monster Auto Group, which held the runner-up spot for the second week in a row.
Rounding out the city's top-five were Rogers and BMW in #4 and #5 respectively, both holding their spots for the second straight week.
Ford's big buy put car and truck dealer associations as the top category buyers with 3,711 spots, while local dealerships were the next highest-buying category at 2,622 spots.
In the Montreal market, CTV was finally knocked out of the top spot as the most prolific radio buyer, but another Bell-owned property — Bell TV — took the top spot. Bell TV was new to Montreal's buying charts.
CTV slid into #2 in Montreal, followed by the Montreal Auto Show at #3. Shoppers Drug Mart fell to #4 from #2, while furniture retailer Brault and Martineau make a big leap to #5 from #50.
There were plenty of new entrants in Montreal's top-10, including the Ford Dealers Association (#6), Honda Civic (#8) and the Hyundai Dealers Association (#9).
As an overall category, however, restaurants and nightclubs were the top buyer, with 538 spots purchased.
Toronto, by brand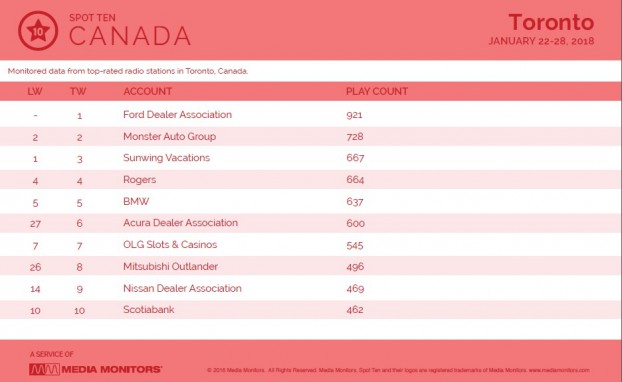 Toronto, by category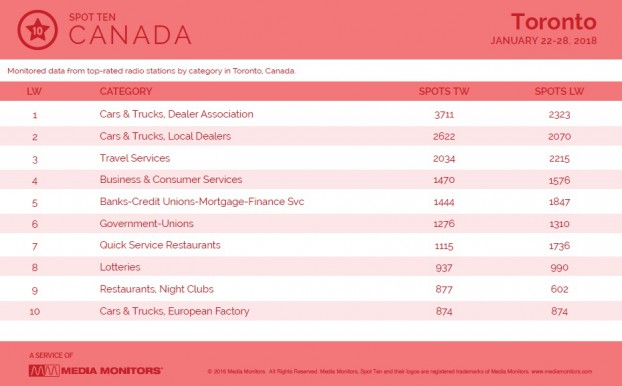 Montreal, by brand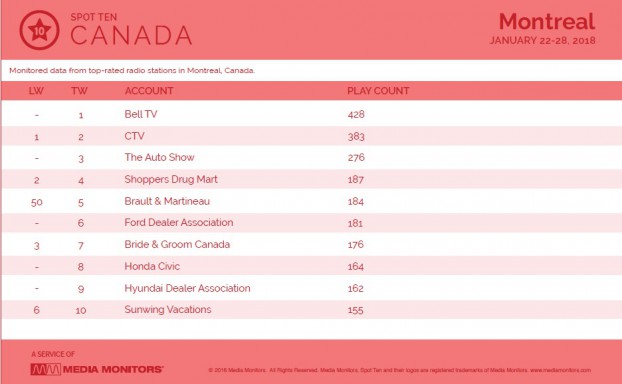 Montreal, by category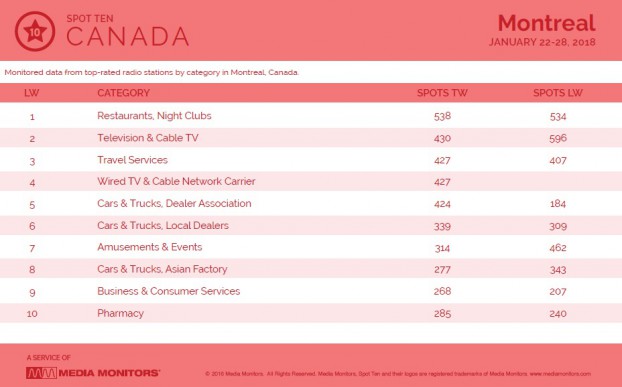 Photo courtesy of Unsplash