Global shifts Instinct premier, reveals Timeless' return
The Corus-owned broadcaster tweaks its winter schedule ahead of a new series' premier.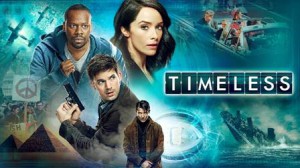 Global has cemented the winter-season return of sci-fi drama Timeless and tweaked its prime time schedule to accommodate changes with the only brand new show on its mid-season roster.
Timeless, an hour-long time travel adventure, had initially been cancelled after its first season by NBC in the U.S. but saw a surprise return in May thanks in part to vocal fans. The show had run on Global's Monday night lineup last fall, but was absent from both the Fall 2017 lineup and the mid-season schedule until Wednesday.
The Corus-owned broadcaster has slotted Timeless into a Sunday, March 11 debut at 10 p.m., following NCIS: Los Angeles (a franchise that has done well so far this mid-season).
That Sunday night has seen another change. Instinct, Global's only new program this mid-season, pushed its series premier back by a week after CBS delayed its launch in the U.S. The Alan Cumming-led crime drama about a former CIA agent helping police solve crimes based on his book was originally slate for a March 11 launch, but will now debut March 18 at 8 p.m.