Initiative jumps around Yonge-Dundas with CBC
A campaign for Caught bids pedestrians to catch star Allan Hawco as he moves from screen to screen.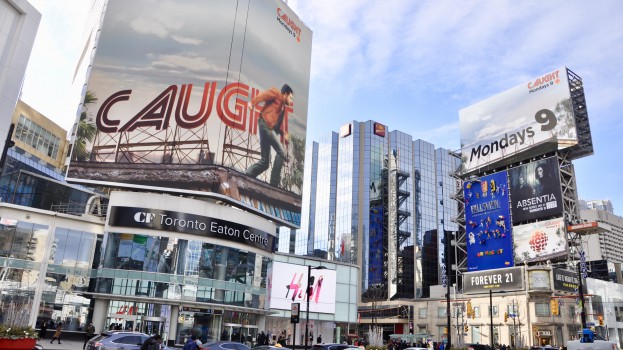 IPG Mediabrands agency Initiative has created an OOH execution in downtown Toronto that will see a CBC show character jump across a busy street via multiple digital screens.
Three large-format screens in Toronto's Yonge-Dundas square are being synced this weekend for a campaign promoting Caught, a new show on CBC about a criminal trying to escape the law starring Allan Hawco.
Footage from the series has been repurposed to show Hawco leaping from screens on the Eaton Centre to those across Dundas Street on the Atrium On Bay.
The campaign has a contesting element added, as those who are able to photograph Hawco and upload their pic to Twitter with the hashtag #CBCCaughtContest are entered for a chance to win a trip to Mexico (a relevant location in the new series).
Dylen Postnikoff, CBC's head of entertainment and content marketing, said she liked that the campaign does more than simply use OOH to showcase existing video content and actually engages with audiences.
"We built a media campaign that was based on the concept of motion, driving viewers to interact with Caught by integrating creative elements that perform through unique media opportunities and capabilities," she said.
The execution and contest are the result of a partnership with CBC, Initiative, OOH provider Branded Cities and experiential marketing agency Diamond.