Advocates vs. influencers and other Atomicon takeaways
A grab bag of wisdom from Atomicon's presenters.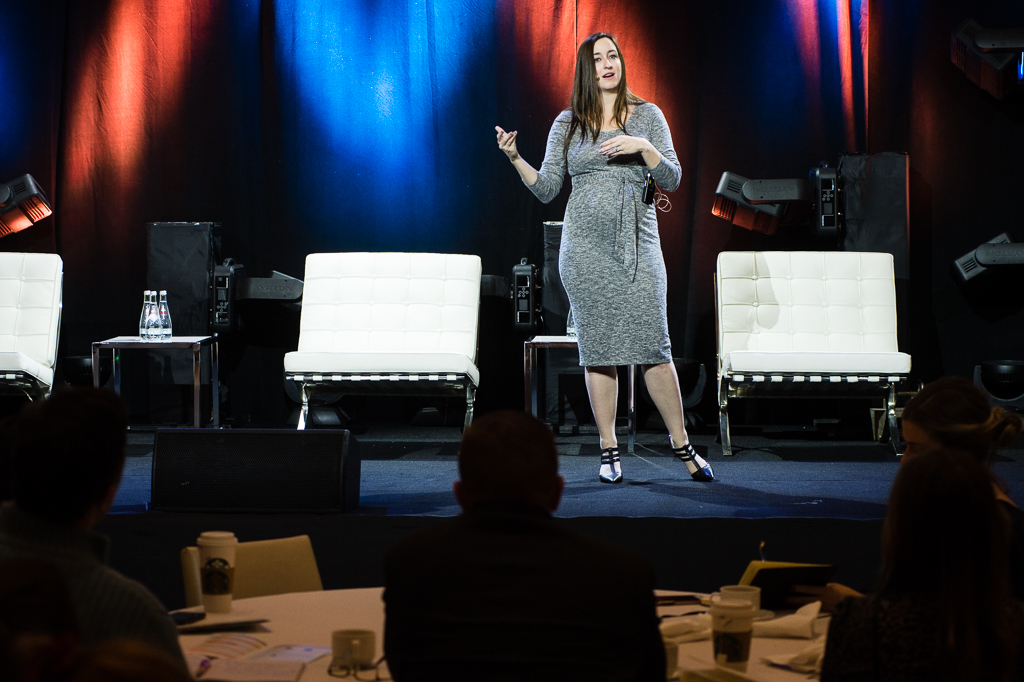 There were 17 sessions at last week's Atomicon conference in Toronto, chock-full of branded content and technology experts sharing their success stories and showing where content is headed in the years to come.
Media In Canada already reported on the somewhat counter-intuitive advice from BuzzFeed's Leigh Riemer (pictured) in the event's opening keynote address. But with so many speakers sharing insights, MiC staffers ran from session to session to gather as much intel as we could. Below are just a handful of thoughts from brand leaders, media experts and technology gurus flexing their know-how for publishers and brands.
Related
· Read the comments (and other secrets to Tasty's success)

"Advocates are different from influencers."
As lead community developer for Ubisoft, Stephanie Pecaoco needed to lean on a community of gamers to complete a major project: a branded documentary. The company's Assassin's Creed IP has been around for 10 years (including its 13 triple-A releases), and part of its anniversary efforts included a film focusing on positive stories from within the games' fan base. This required outreach not only to find those stories, but to help drive views once the project was finished. Part of the film's success came from Pacaoco's understanding of fans' differing agendas when engaging with Assassin's Creed.
"Influencers are powerful partners because of their reach and popularity," she said. "But at the end of the day, their agenda is their personal benefit. Advocates do what they do for their love, passion and loyalty for the brand. Their agenda is their loyalty of the brand."

"[Promotional] content was embraced by the fans because we hadn't put it down their throats."
If you haven't heard of Carmilla and its remarkable online success, you've missed out on a spectacular Canadian success story. The gist: production house Shaftesbury launched a lesbian vampire web series in partnership with U by Kotex. It got three seasons online, a movie, moved to broadcast after its initial online run and has been driving sales for the tampon brand (so much so that its U.S. parent company took over funding the Canadian-born project and upped the budget).
But it did not promote U by Kotex in the show itself. There was no product placement. Instead, the show created an adjascent series with the show's stars to talk about menstruation. "We know from fan surveys that 60% of them know this series was brought to them by U by Kotex, and 45% say they have gone and bought U by Kotex products," said Christin Jennings, CEO of Shaftesbury Films. "One of the things we hear a lot about is brands looking for YouTube influencers to help drive eyeballs to new ventures … We decided to create our own influencers, the brand ambassadors for U by Kotex."
"Some companies are turning ads into a weapon… a misuse of trust."
Nick Barbuto, managing director at OMD, sees a ton of potential for brands in "the future of media" (as his Atomicon session was titled). For example, publishers are asking ad-blocking readers to help mine bitcoin rather than begging for subscription fees, and sports associations are enhancing their product with VR. But other publishers are using ad opportunities to badger their audiences. Barbuto points to YouTube's Lyor Cohen, who told Bloomberg that his platform will push more ads at YouTube viewers watching music videos to nudge them towards his parent company's ad-free streaming service.

"As brands become more mature, they have to stimulate their consumers in different ways."
Craig Johnson, Absolut Vodka's VP marketing, told attendees that the brand has been expanding its storytelling and content strategies recently in part because the brand faced quality perception problems. After spending more than 400 hours talking to consumers in 11 cities around the world, Johnson saw a need to leverage storytelling to not only continue positioning his brand against art and creative endeavours (such as its new One Source Live festival in South Africa), but to show that Pernod Ricard (which owns Absolut) is proud of producing a high-quality product.