Spotted! One popcorn, extra extra extra large
The "Big Meets Bigger" campaign promotes the release of action film Rampage.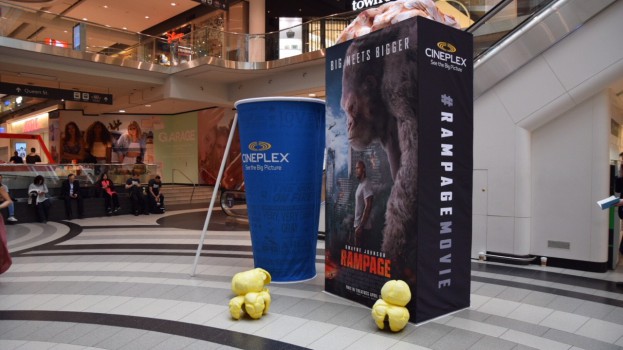 Cineplex went big for the release of the latest film starring Dwayne "The Rock" Johnson, Rampage.
Drawing inspiration from the movie's tagline, "Big Meets Bigger," Cineplex partnered up with Warner Bros. Canada to create a larger-than-life snack display fitted with everything from a 12′ bag of popcorn and 10′ tall soda cup to basketball-sized popcorn kernels and a jumbo straw that passers by could interact with.
It's all part of what Darren Solomon, Cineplex's VP of marketing, calls an occasion strategy aimed at creating experiences for guests both inside and outside the theatre.
"The idea is just to create these instagramable and shareable moments that really keep us top of mind when people are thinking about movies and, importantly, when they're not thinking about movies," Solomon tells MiC.
Cineplex has deployed similar occasion strategies before — giving out popcorn for National Popcorn Day, partnering with Budweiser for their NFL programming, promoting a long-distance date night for Valentine's day, and giving flowers to moms at theatres across the country for Mother's Day.
"We're trying to create these moments that position us as more than just the movies," Solomon says. "It's really about the full entertainment experience."
The display made its way around Ontario this week, first arriving at Toronto's Eaton Centre on Wednesday, then moving to Fanshawe College and Silver City theatre in London. It will be back in Toronto on April 15 at the Queensway theatre.