DAZN launches largest integrated campaign
The sports streamer wants the world to know that it's more than just football.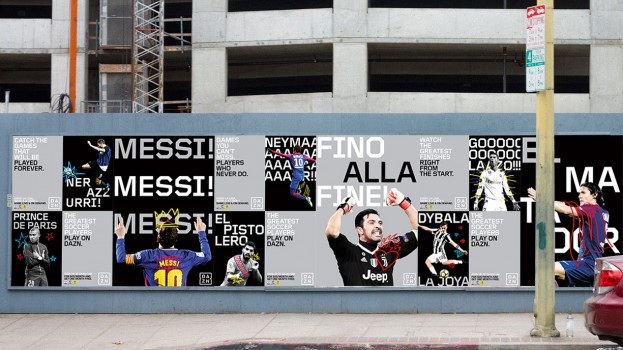 Sports streamer DAZN is mostly known for football, but its new campaign is all about reminding Canadians that it's also a destination for European football – or soccer, as it's known here.
The new "Rise to Greatness" campaign went live in Toronto as part of an effort to promote DAZN's coverage of La Liga, Serie A and Ligue q, some of Europe's most popular leagues.
The campaign, which incorporates social, video, digital, search and OOH, is DAZN's largest integrated campaign since its Canadian launch last year. DAZN worked with Essence on the media buy, Sid Lee on creative and Hill+Knowlton on PR.
It's also launched a "Quest for Greatness" contest, which lives online and challenges soccer fans of all ages to a round of soccer trivia. The grand prize is a trip to Spain to witness the bi-annual El Clasico rivalry match between FC Barcelona and Real Madrid, while winners can also receive DAZN prize packs and subscriptions to the service. The contest is currently underway (running until April 23) and is being promoted with online advertising.
The goal of the campaign was to communicate DAZN's soccer offering. The streaming service, which went live in Canada late last year, marketed itself on its football content. During Super Bowl season, DAZN ran a campaign to increase audience awareness and engagement, sending two fans to the big game and tapping Canadian comedian Gerry Dee as an influencer and promoter.
But with the Super Bowl come and gone, DAZN is now focusing on other sports. It just wrapped up its broadcast of the Commonwealth Games (which it sublicensed to CBC for greater reach) and is getting ready to ramp up its European soccer coverage. Michael Di Staulo, communications manager at Sid Lee, said that this effort has been larger and "much more integrated" than DAZN's official launch campaign last fall.