Spotted! Blessed are the meek
Cloaked handmaids caused a stir in some cities.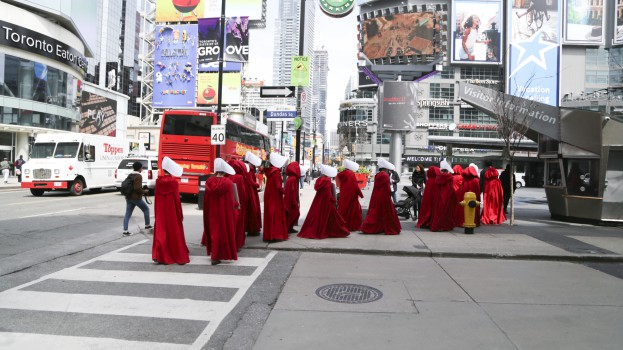 Does something seem a little off in Canada's big city streets?
No, the world hasn't descended into a dystopian nightmare (depending on who you ask). But a recent stunt by Bravo perhaps prompted a feeling of unease. A group of women clad like handmaids from the Hulu/Bravo series The Handmaid's Tale appeared walking throughout the streets in Calgary, Vancouver and Toronto on April 26 and 27.
Each city featured 16 handmaids and one authority figure. The handmaids, sporting what is currently one of the most recognizable costumes in television (just look at the number of Handmaid Halloween costumes that cropped up last year), marched throughout the city to promote the second season premiere of the series, which is exclusive to Bravo in Canada.
In Calgary, the handmaids targeted high-traffic areas such as around city hall, the Calgary courthouse and the Olympic Plaza. Heavily populated neighbourhoods like Yaletown and Gastown were the target in Vancouver, while Toronto's tour targeted the corporate and tourism-heavy areas of Bay Street, Old City Hall and the U.S. Embassy.
The event had no pre-promotion from either paid media, social media or PR. Bravo's marketing team worked alongside Rick Davis Promotions to produce the activation.