The Sheldon Cooper duo takes the week: Numeris
The comedy is set to close out the year with a near-undefeated season.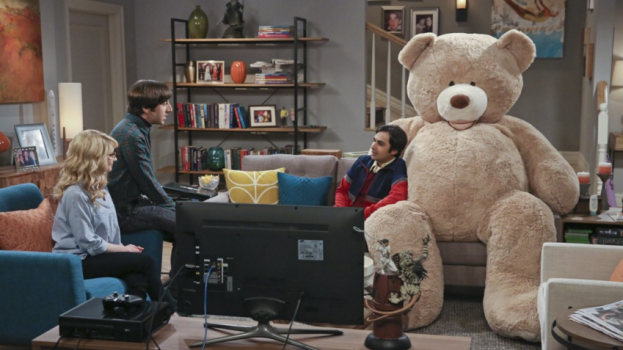 The season isn't over yet, but The Big Bang Theory and its sister show Young Sheldon haven't fizzled out in the home stretch.
The Big Bang Theory once again recorded the highest AMA of all single-night programs in Canada for the week of April 23 to 29, pulling in 3.22 million viewers (up from 3.19 million). The comedy has had a near-undefeated season this year, and has not had a single week when another scripted show has pulled in a higher AMA.
Its prequel Young Sheldon has also enjoyed the second-place slot for much of the season. The show grew its audience slightly to 2.67 million during the April 23 to 29 week.
In the middle was Global's Survivor (with 1.85 million viewers), while the top five was rounded out by two more CTV shows (both from Shonda Rhimes), Station 19 and Grey's Anatomy.
Meanwhile, as round one of the NHL Stanley Cup playoffs closed out and round two began, the games kept their high viewership going. The two round one games broadcast on CBC brought in an average of 2.61 million viewers, while the two on Sportsnet brought in an average of 1.16 million viewers. The six games of round two broadcast on CBC brought in an average of 999,000 viewers.
Big Bang took every Anglophone market for single-night programs, although in Toronto, the CBC's two broadcasts of the final round one hockey games pulled in a higher average audience. The city also paid close attention to the opening game of round one with the Toronto Raptors, with an average of 380,000 viewers tuning into TSN to watch the match.
Canada
1. The Big Bang Theory on CTV Thursday at 8 p.m.: 3.22 million viewers
2. Young Sheldon on CTV Thursday at 8:31 p.m.: 2.67 million viewers
3. Survivor on Global Wednesday at 8 p.m.: 1.85 million viewers
4. Station 19 on CTV Thursday at 9 p.m.: 1.69 million viewers
5. Grey's Anatomy on CTV Thursday at 7 p.m.: 1.66 million viewers
Montreal (Anglophone)
1. The Big Bang Theory on CTV Thursday at 8 p.m.: 104,000 viewers
2. Young Sheldon on CTV Thursday at 8:31 p.m.: 87,000 viewers
3. Law and Order: SVU on CTV Wednesday at 9 p.m.: 73,000 viewers
4. Roseanne on CTV Tuesday at 8 p.m.: 70,000 viewers
5. Designated Survivor on CTV Wednesday at 10 p.m.: 55,000 viewers
Quebec (Francophone)
1. La Voix on TVA Sunday at 7 p.m.: 2 million viewers
2. Tout le monde en parle on SRC Sunday at 8 p.m.: 997,000 viewers
3. Vlog on TVA Sunday at 6:30 p.m.: 993,000 viewers
4. 1res fois on SRC Thursday at 8  p.m.: 919,000 viewers
5. La Poule aux oeufs d'or on TVA Wednesday at 7:30 p.m.: 864,000 viewers
Toronto/Hamilton
1. The Big Bang Theory on CTV Thursday at 8 p.m.: 670,000 viewers
2. Young Sheldon on CTV Thursday at 8:31 p.m.: 569,000 viewers
3. Survivor on Global Wednesday at 8 p.m.: 384,000 viewers
4. NBA Playoffs Round One (Raptors vs. Cavaliers) on TSN Wednesday at 7 p.m.: 380,000 viewers
5. Masterchef Canada on CTV Tuesday at 9 p.m.: 304,000 viewers
Edmonton
1. The Big Bang Theory on CTV Thursday at 9 p.m.: 137,000 viewers
2. Young Sheldon on CTV Thursday at 9:31 p.m.: 113,000 viewers
3. NCIS: Los Angeles on Global Sunday at 10 p.m.: 82,000 viewers
4. Station 19 on CTV Thursday at 10 p.m.: 70,000 viewers
5. MacGyver on Global Friday at 9 p.m.: 68,000 viewers
Calgary
1. The Big Bang Theory on CTV Thursday at 9 p.m.: 153,000 viewers
2. Young Sheldon on CTV Thursday at 9:31 p.m.: 131,000 viewers
3. Chicago Med on Global Tuesday at 8 p.m.: 89,000 viewers
4. Grey's Anatomy on CTV Thursday at 7 p.m.: 79,000 viewers
5. Survivor on Global Wednesday at 9 p.m.: 75,000 viewers
Vancouver/Victoria
1. The Big Bang Theory on CTV Thursday at 9 p.m.: 207,000 viewers
2. Survivor on Global Wednesday at 8 p.m.: 167,000 viewers
3. Young Sheldon on CTV Thursday at 8:31 p.m.: 164,000 viewers
4. NCIS: Los Angeles on Global Sunday at 9 p.m.: 134,000 viewers
5. Hawaii Five-O on Global Friday at 9 p.m.: 128,000 viewers