Spotted! Walmart's tribute to Moms
The superstore chain gave mothers star status for the weekend with a temporary refresh of its sign.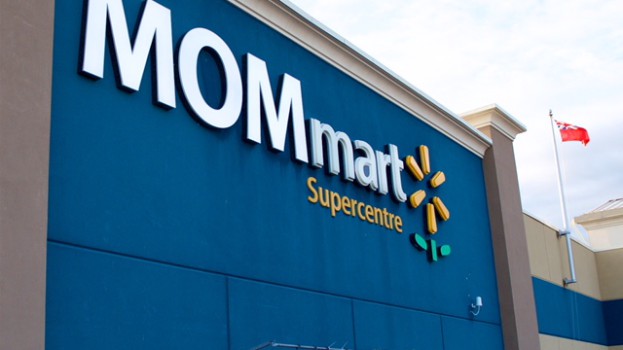 A Scarborough Walmart got a new name for the weekend: Mommart.
Aside from the noticeable sign change, the Walmart Supercentre (located in Toronto's Morningside neighbourhood) included in-store activities such as giveaways, refreshments and a flower wall for photo opps.
The temporary rebranding was part of Walmart's celebration of Mother's Day, and also served as the kickoff for the chain's annual Children's Miracle Network campaign, which supports mothers with children receiving care at children's hospitals.
Tammy Sadinsky, Walmart's VP of marketing communications, said moms have always been a very important demographic to Walmart, which is why the company always makes an effort to salute mothers in its marketing around this time of year. "Moms are definitely our brand champion customer, and Canada is home to 9.8 million mothers," she told MiC.
The rebrand stunt, Sadinsky said, simply adds a layer of playfulness that helps enhance Walmart's annual message around moms. She pointed out that even the store's iconic Walmart spark was turned into a daisy, "just to add another wink in our salute to moms."
Sadinsky said that because the activation is so new for Walmart, the company didn't put much into the pre-event promotion in terms of advertising; however, it did inform customers of the stunt through radio promotion and invited some influencers to the store during the celebration. The company also created social video content for the sake of sharing, in order to keep the message fresh in the coming weeks.
Walmart Canada worked with Apex on PR, Mosaic for experiential and Ruckus for social.