How data fueled Carte Blanche's winners
Weather, traffic and transit data was incorporated into this year's winning digital boards.
Bell Media's Astral OOH has awarded the top competitors in its Carte Blanche competition for out-of-home creativity.
A single grand prize and two runners-up from Toronto and Western Canada – two of the three participating markets, with the Montreal winner announced at a later date – were revealed at a Carte Blanche event last night.
The annual contest – now in its ninth year – doesn't give entrants a brief, and simply asks them to come up with the most creative idea possible for one of their agency's clients that could run on Astral's network of out-of-home boards. For the first time this year, winners were chosen by a national jury of creatives.
The grand prize for Toronto went to Zulu Alpha Kilo's Patrick Godin and Michael Romaniuk for their KitchenAid "City Colours" board; second place went to Publicis' Tyler Schell and Christian Martinez for their "Train Triggered Advertising" board with Go Transit; third place went to Sherry Dubeau and Samantha Angus of BBDO for their "Too Hot for Spot" board with Pedigree.
The Western Canada grand prize went to Mark Wilson and Kelsey Hughes of Cossette for "Chasing the Solstice" with Yukon Tourism; second place went to Rethink's Jake Gauthier and Greg Kieltyka for their "Imagine the Possibilities" creative with IKEA, and third prize also went to Wilson and Hughes of Cossette for a Sephora "Shades of Summer" board.
Grand prize winners have been awarded a $50,000 campaign for their winning clients from the Astral digital network and will be flown to the Cannes Lions International Festival of Creativity to compete. Second-place winners received a MacBook Retina, and third-place finishers received an iPad Pro.
This year also introduced the Trucker's Choice award, special recognition for creatives chosen by representatives from Canada's trucking industry (due to truckers' intimate familiarity with billboards). The Canadian title went to Brian Santangelo, Brian Howlett and Curtis Wolowich of Agency 59 for their work with SiriusXM Radio, while Will Creative's Rory O'Sullivan took the Trucker's Choice award in Western Canada for his "Irresistable" board for Cob's bread.
Many of the winners and top-finishing finalists shared the creative idea of having real-time data fuel media.
The most common data point was weather. For example, the third-place finisher "Too Hot for Spot" ad used the current temperature to remind people not to keep their dogs in hot cars.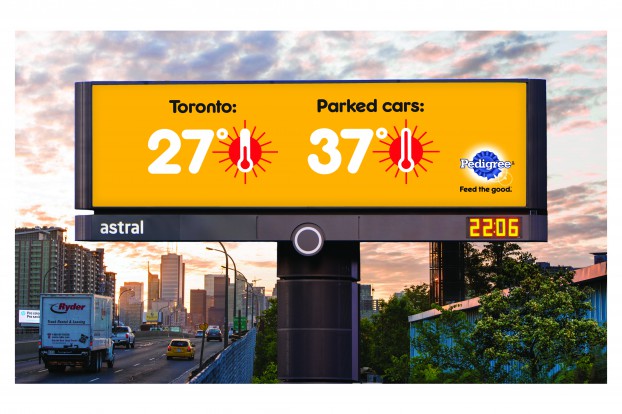 In Western Canada, the weather was also used to showcase contextually relevant products. Rethink's "Today's Possibilities" for IKEA used the day's weather to generate a list of products to buy. For example, on a rainy day, it recommends a throw blanket, a couch, a glass of wine and a book. Cossette took a more glamorous approach with Sephora on its "Shades of Summer" ad, which swapped in a different lipstick colour depending on the weather outside.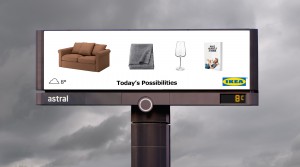 And then there was the use of traffic and transit data. Publicis' "Train Triggered Advertising," for client Go Transit, was situated on the Gardiner Expressway and triggers every time a train passes, reminding those stuck in gridlock that the Go Train is the fastest way to travel.
For Agency 59′s work with Sirius XM Satellite Radio, the board taunted road users with the number of miles of "free parking" (read: gridlock) they had left to go, encouraging them to relax and turn on the tunes.
Other winning boards