The Big Bang Theory keeps top spot: Numeris
The comedy and its prequel Young Sheldon couldn't be beat in any anglophone market across Canada.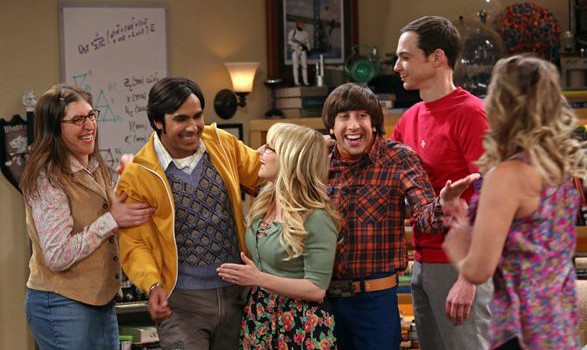 In terms of average audience, The Big Bang Theory and Young Sheldon were the top two single-night TV programs in Canada for the sixth week in a row for the week of May 7 to May 13.
While Big Bang garnered 3.93 million views for its season 11 finale airing May 10, Young Sheldon had 2.63 million people tuning in.
The hit CTV comedies were followed by Global's NCIS, Bull and Survivor.
In the Quebec market, award season reigned with Le Gala Artis and Le Tapis Rouge Artis taking the top two spots for single-night TV programs in the region.
Canada
1. The Big Bang Theory on CTV Thursday at 8 p.m.: 3.93 million viewers
2. Young Sheldon on CTV Thursday at 8:31 p.m.: 2.63 million viewers
3. NCIS on Global Tuesday at 8 p.m.: 2.17 million viewers
4. Bull on Global Tuesday at 9 p.m.: 2.08 million viewers
5. Survivor on Global Wednesday at 8 p.m.: 1.93 million viewers
Montreal (Anglophone)
1. The Big Bang Theory on CTV Thursday at 8 p.m.: 148,000 viewers
2. Young Sheldon on CTV Thursday at 8:31 p.m.: 108,000 viewers
3. Law And Order: SVU on CTV Wednesday at 9 p.m.: 77,000 viewers
4. Roseanne on CTV Tuesday at 9:30 p.m.: 67,000 viewers
5. Grey's Anatomy on CTV Thursday at 9 p.m.: 65,000 viewers
Quebec (Francophone)
1. Le Gala Artis on TVA Sunday at 8 p.m.: 1.76 million viewers
2. Le Tapis Rouge Artis on TVA Sunday at 7 p.m.: 1.20 million viewers
3. La Poule Aux Oeufs D'Or on TVA Wednesday at 7:30 p.m.: 812,000 viewers
4. Dans Oeil du Dragon on SRC Wednesday at 8 p.m.: 796,000 viewers
5. La Voix Extra on TVA Monday at 8 p.m.: 756,000 viewers
Toronto/Hamilton
1. The Big Bang Theory on CTV Thursday at 8 p.m.: 952,000 viewers
2. Young Sheldon on CTV Thursday at 8:31 p.m.: 603,000 viewers
3. Bull on Global Tuesday at 9 p.m.: 492,000 viewers
4. NCIS on Global Tuesday at 8 p.m.: 477,000 viewers
5. NBA Raptors Playoffs RD2 on TSN Monday at 8:30 p.m.: 440,000 viewers
Edmonton
1. The Big Bang Theory on CTV Thursday at 9 p.m.: 153,000 viewers
2. Young Sheldon on CTV Thursday at 9:31 p.m.: 117,000 viewers
3. NCIS on Global Tuesday at 9 p.m.: 96,000 viewers
4T. Hawaii Five-0 on Global Friday at 10 p.m.: 82,000 viewers
4T. Bull on Global Tuesday at 10 p.m.: 82,000 viewers
Calgary
1. The Big Bang Theory on CTV Thursday at 9 p.m.: 209,000 viewers
2. Young Sheldon on CTV Thursday at 9:31 p.m.: 153,000 viewers
3. NCIS on Global Tuesday at 9 p.m.: 109,000 viewers
4. Bull on Global Tuesday at 10 p.m.: 105,000 viewers
5. Seal Team on Global Wednesday at 10 p.m.: 83,000 viewers
Vancouver/Victoria
1. The Big Bang Theory on CTV Thursday at 8 p.m.: 286,000 viewers
2. Young Sheldon on CTV Thursday at 8:31 p.m.: 210,000 viewers
3. Bull on Global Tuesday at 9 p.m.: 177,000 viewers
4. NCIS on Global Tuesday at 8 p.m.: 165,000 viewers
5. NCIS: New Orleans on Global Tuesday 10 p.m.: 154,000 viewers