BMO takes Toronto: Media Monitors
Meanwhile, Just For Laughs increased its buy in Montreal to promote its upcoming festival.
BMO Bank of Montreal was the most prolific radio buyer in Toronto, topping the Media Monitors charts for the week of June 25 to July 1.
The financial organization rose up from #2, purchasing 1,203 spots. Last week's top buyer, OLG, fell out of the top 100.
Coming in at #2 and #3 were Rogers and the Acura Dealers Association, which both rose up one spot each. At #4 was McDonald's, which made a higher jump from #19, and rounding out the top-five was Hudson's Bay, up from #29.
The category of banks, credit unions, mortgages and financial services was the largest buying category, purchasing more than 3,000 spots.
In Montreal, Just For Laughs climbed up two spots to reach #1. With the annual Just For Laughs festival approaching (July 11), the festival purchased 261 ads.
That knocked long-time lead CTV into the #2 spot.
Following the Bell Media channel was McDonald's (up from #21), the Ford Dealers Association (up from #30) and Rona (down from #4).
Restaurants and night clubs were the largest buying category for Montreal, although it had fewer spots than the previous week (567 down from 593).
Toronto, by brand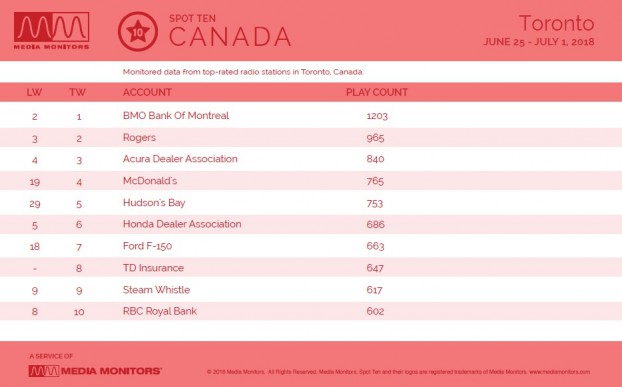 Toronto, by category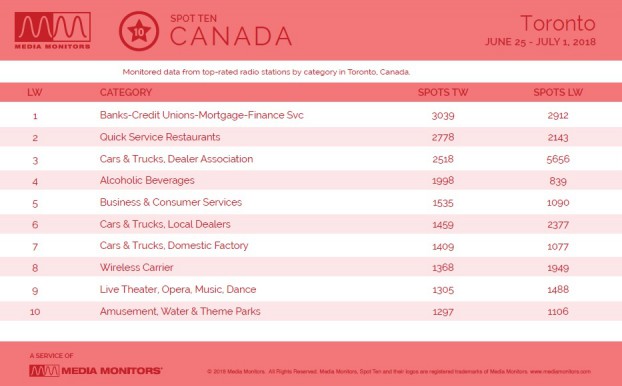 Montreal, by brand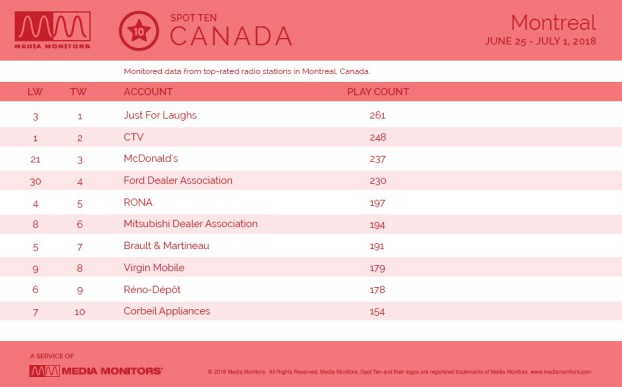 Montreal, by category