After the arena: Diving into Scotiabank's hockey strategy
EVP and CMO John Doig says it's not stopping at placing logos on its newly sponsored arena.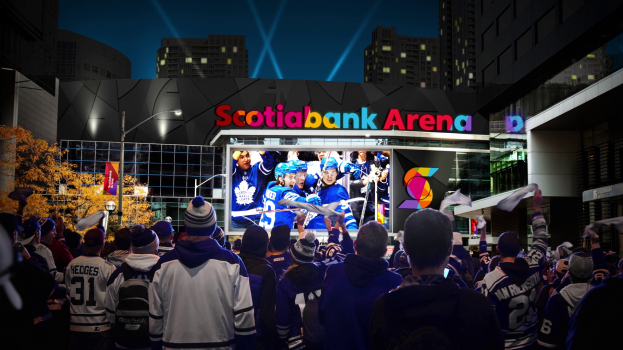 It's official: the building formerly known as the Air Canada Centre is now the Scotiabank Arena.
As of July 1, financial institution Scotiabank has officially taken over the naming rights for the popular Toronto arena, where the Toronto Maple Leafs and Raptors attract hundreds of thousands of fans per year.
The sponsorship comes with new signage, features on the interior and exterior of the building (including renovations of gates six and two), a dynamic lit-up sign on the Bremner-side entrance to the arena and new fan experiences. But for Scotiabank, it's just another pillar in its quest to become known as "Canada's hockey bank," a strategy it's been undertaking for more than a decade.
John Doig, EVP and CMO for Scotiabank, told MiC hockey-related media investment has represented about 45% of Scotiabank's media spend for the last three years.
When Scotiabank first inked its deal with the NHL to become the league's "official bank" in 2006, Doig said this was only the "top of the pyramid," which, although high-profile, didn't get to the core of the mission. "People understand that yes, you write a cheque, you get this title." He said investing in the bodies perceived as "lower" parts of the pyramid – minor leagues, women's leagues, community hockey – gave Scotiabank a worthwhile place to put its media spend and drive the point home.
It's also invested a significant amount in TV deals with Rogers Media, and has served as one of the title sponsors of Rogers' Hometown Hockey (along with Dodge) and the Scotiabank Hockey Day in Canada. It's added touches to traditional games, such as young hockey players providing the intro to televised games.
"Because we integrate the kids into the broadcast point, that gives us more activation points within the communities," said Doig, adding that the deal with Rogers also allows for numerous digital and second-screen opportunities.
"I talk a lot about hockey. The truth is, nothing moves our brand equity scores more than hockey."
But what's next? Doig said he doesn't want to simply stop at a name on the side of the building, and improving equity won't be achieved by more logos.
Instead, he said, it's looking at how to better integrate with another one of its well-known, consumer-facing programs: Scene.
"In monitoring what consumers like and want, we know there's a big opportunity with the Scene program," he said. "We have incredible access to hockey, and we know there's overlap of interest between this entertainment lifestyle loyalty program and hockey."
Scotiabank has worked with Dentsu Aegis sponsorship agency MKTG on its hockey sponsorship efforts over the years.