ICMYI: BuzzFeed launches new website for BuzzFeed News
Plus, Fuse Live rebrands and restructures.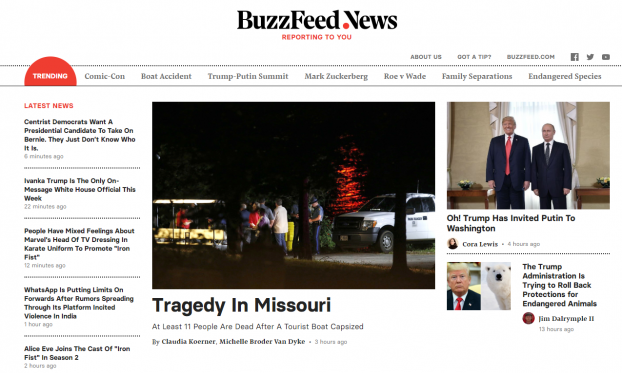 The buzz on BuzzFeedNews.com
The popular website best known for listicles launched a separate site just for news. The news side of BuzzFeed has produced two prestigious Pulitzer nominations. But the buzz around the brand has been less prestigious, finishing last in a Pew Research Centre poll regarding trust levels of news sources. The main BuzzFeed site still features bright colours and emojis while the BuzzFeed News site has a more restrained, modern design.
Fuse Live rebrands, restructures
Fuse Live, the XM and live content practice of Fuse Marketing Group, announced a new VP and three new directors. The division, which launched in 2016, announced that Aleena Mazhar was named partner and VP, while Zach Wright, Ashley Somerville and Anthony Mayes were named directors. Fuse Live also recently launched a new website and Instagram page as part of the rebranding and restructuring of the division.
Sportsnet snags exclusive radio rights to Vancouver Giants games
Sportsnet 650 has snagged the exclusive radio rights to the Vancouver Giants of the Western Hockey League (WHL). Starting this coming season, Sportsnet's Vancouver-based all-sports radio station Sportsnet 650 will broadcast all Vancouver Giants games live, which combined with all 82 Vancouver Canucks games, makes it the exclusive home for all of Vancouver hockey.
Photog, reporters leave the Toronto Star
A trio of award-winning journalists have left the Toronto Star recently. Lucas Oleniuk, a photographer at the daily newspaper, has left after more than 15 years, winning multiple awards for his photos during his tenure. Jayme Poisson, also an award-winning, long-time reporter at One Yonge, recently announced she too was leaving the daily after eight years. And, Michelle Shephard, an award-winning reporter, announced in June she was leaving after 21 years with the paper.