Spotted! Breaking bad habits
Warner Bros. Pictures Canada took over the streets with some creepy nuns and is activating at the FanExpo later this week.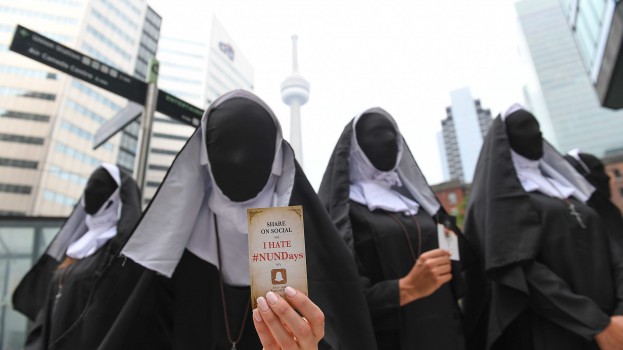 By Jessica Patterson
A chilling activation hit the streets in three Canadian cities on Monday, in advance of a new horror movie launch.
Dressed black habits, three teams of six nuns each woke up commuters in Toronto, Vancouver and Montreal during morning rush hour. They chanted in Latin while distributing double-sided prayer cards encouraging fans to share on social media using "I Hate #NUNDays."
The activation is part of a two-week paid media push to celebrate the Sept. 7 release of The Nun, part of the horror movie franchise The Conjuring from Warner Brothers.
"The idea was to try to use the imagery of a nun in an authentic way, but also making sure that we kept it scary but not overstepping any boundaries," said David Videka, president of Rooftop, the agency behind the stunt. Warner also worked with Your Brand Integrated Marketing Communications on the media buy, which includes digital and social advertising.
The guerrilla activation was created to mark the studio's partnership with FanExpo, and by Tuesday morning, it had a social media reach of 1,042,029, generated 1,528,051 impressions, and 18,304 total engagements, according to Videka.
To add to that, an additional activation will be installed at FanExpo later this week, featuring a 40 by 40-metre space tricked out to resemble a graveyard with custom headstones, dead trees lining the sides and a custom-built activation trailer, where fans can experience some of the movie's terror firsthand.
Videka explained that the trailer is covered, floor to ceiling, in mirrors, with hanging candles and four more nuns. "One of them has a prosthetic face that we created to look exactly like the nun in the movie," he said. The trailer is being used for photo ops to encourage social sharing. The FanExpo activation runs Aug. 30 to Sept. 2.
Following that, there will be advanced screenings of the film in Toronto, Vancouver and Montreal, and a couple of days after that the movie will be released to the public.
Videka said that although Warner Bros. is engaging in a massive multiplatform media push in the U.S. as well, the experiential component was created custom for the Canadian market.
Partnering with FanExpo was part of the Canadian strategy for The Nun, said Videka, in order to reach a wide demographic of people who are typically engaged in pop culture. "Horror doesn't have a demographic, per se," he said, adding that FanExpo attracts super-fans of genres such as action and horror who are looking to learn more about movies and TV shows. He also noted that there will be numerous influencers present at FanExpo, helping to boost the visibility of the activation.